Ethnobiology Letters (ISSN 2159-8126) is a gold open access, fully online, peer reviewed journal for publication of short communications concerning ethnobiology, the study of the relationships between humans and environments in diverse spatial and temporal contexts. Published by the Society of Ethnobiology, with support from its membership, EBL does not currently charge publication fees. Articles are published on a rolling basis in one annual issue, with occasional thematic issues. EBL is indexed in Scopus, Web of Science, and DOAJ. For more information about submitting articles, see Author Guidelines and Online Submissions.
Announcements
Improvements: EBL Adopts Creative Commons License

Ethnobiology Letters (EBL) is pleased to announce that it has moved to a new licensing model based on Creative Commons licenses that more fully reflects the journal's open access vision. The latest generation of Creative Commons licenses help journals like EBL to fully embrace open access while allowing authors to retain their own copyrights, ensuring proper recognition of our journal's and Society's contribution, and discouraging third parties from using our publications for commercial gain. We intend to make this change starting with our first 2016 issue. Additionally, we have also applied this license to all previously published articles. Click "more" for further details about how this affects the rights of past and future authors.
Posted: 2016-02-04
More...

Of Interest: Support Ethnobiology Letters with a donation to the Society of Ethnobiology Online Publications Fund

Ethnobiology Letters remains free for readers and authors through generous support from the Society of Ethnobiology and its membership. The Society of Ethnobiology recently set up a special fund to support the organization's online publishing efforts, including Ethnobiology Letters and Contributions in Ethnobiology. In order to help keep EBL free of charge and help make it sustainable in the long term, please consider making a donation now!
Posted: 2016-01-14
More...

Improvements: Updated Author Guidelines

Ethnobiology Letters has just updated its author guidelines in order to assist authors in preparing manuscripts. Authors' 

diligence in closely following these guidelines is part of what makes our free, open-access publishing possible.

Posted: 2016-01-02
More...

New Articles: Brazil's new Biodiversity Law discussed in an Ethnobiology Letters editorial

Did you know Brazil has a new law regulating research, commercialization, and benefit sharing involving the country's genetic biodiversity and associated traditional knowledge? Find about it in this new editorial by James R. Welch!
Posted: 2015-12-21
More...
Vol 6, No 2 (2015)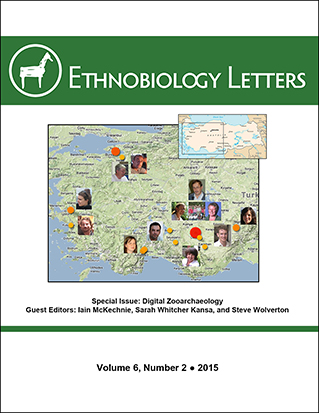 Photo: Participants in the Central and Western Anatolia Neolithic Working Group, who collaborated to integrate and analyze multiple faunal datasets from archaeological sites in Turkey (see Kansa, this issue).
Special Issue: Digital Zooarchaeology
Guest editors: Iain McKechnie, Sarah Whitcher Kansa, and Steve Wolverton