Ethnobiology Letters (ISSN 2159-8126) is a gold open access, fully online, peer reviewed journal for publication of short communications concerning ethnobiology, the study of the relationships between humans and environments in diverse spatial and temporal contexts. Published by the Society of Ethnobiology, with support from its membership, EBL does not currently charge publication fees. Articles are published on a rolling basis in one annual issue, with occasional thematic issues. EBL is indexed in Scopus, Web of Science, and DOAJ. For more information about submitting articles, see Author Guidelines and Online Submissions.
Please help us remain free of charge to readers and authors by becoming a member of the Society of Ethnobiology or making a donation to our Online Publications Fund.
Announcements
Improvements: Ethnobiology Letters now publishes in HTML format

We are pleased to announce that Ethnobiology Letters now publishes articles in both PDF and HTML formats to facilitate online reading! Our traditional PDFs are still available for printing and downloading to your digital library. The new HTML formatting, available for all 2016 articles, allows quick full-text viewing without the need to download a separate file.

Posted: 2016-08-20
More...

Improvements: Ethnobiology Letters invites reflections, memorials, interviews, and other short opinion pieces

Responding to interest by potential authors, EBL now invites reflections, obituaries, interviews, and other short opinion pieces for publication in our recently expanded section Interviews & Reflections. This new forum is intended to provide space for ethnobiological insights and thoughts with all the benefits and longevity of indexed open access academic publishing. Submissions to this section will be evaluated by our editors on the basis of content and interest. Interviews & Reflections manuscripts are limited to 3500 words, 10 cited references, two figures, and one video. For more specific guidelines, please see: http://ojs.ethnobiology.org/index.php/ebl/about/editorialPolicies#sectionPolicies.
Posted: 2016-08-11
More...
Vol 7, No 1 (2016)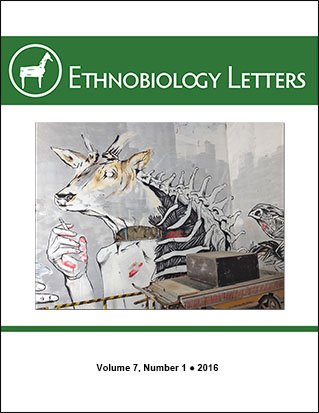 Cover image: Therianthropic and chimeric images are gaining in popularity again, as people re-imagine the connections, hybridizations, tresspassings and cross purposes of animal-human-plant relationships in the 21st century. Mural detail by artist/illustrator/street artist Tamara Alves, photographed in Lisbon, Portugal (2015) by Felice Wyndham.