Ethnobiology Letters (ISSN 2159-8126) is a gold open access, fully online, peer reviewed journal for publication of short communications concerning ethnobiology, the study of the relationships between humans and environments in diverse spatial and temporal contexts. Published by the Society of Ethnobiology, with support from its membership, EBL does not currently charge publication fees. Articles are published on a rolling basis in one annual issue, with occasional thematic issues. EBL is indexed in Scopus, Web of Science, and DOAJ. For more information about submitting articles, see Author Guidelines and Online Submissions.
Please help us remain free of charge to readers and authors by becoming a member of the Society of Ethnobiology or making a donation to our Online Publications Fund.
Announcements
New Articles: Ethnobiology Letters starts 2016 with a bang!

Check out these original research papers and reviews in our new issue. EBL publishes articles on a rolling bases throughout the year, so check back soon to see more!

RESEARCH COMMUNICATIONS

Ethnobotany of Breadfruit in Vanuatu: Review and Prospects by Jean-Pierre Labouisse

Saccharomyces cerevisiae Fermentation Effects on Pollen: Archaeological Implications by Crystal A. Dozier

DATA, METHODS & TAXONOMIES

Longitudinal Taphonomic Studies of Mammal Carcasses from the Rio Salado Valley, Mendoza, Argentina by Clara Otaola and Alfonsina Tripaldi

Eastern Sumbanese Bird Classification and Nomenclature: Additions and Revisions by Gregory Forth

REVIEWS

The Relative Native: Essays on Indigenous Conceptual Worlds. By Eduardo Viveiros de Castro. Reviewed by Eugene N. Anderson

Una Isĩ Kayawa: Livro de Cura do Povo Huni Kuĩ do Rio Jordão. Edited by Agostinho Manduca M. Ĩka Muru and Alexandre Quinet. Reviewed by Carlos E. A. Coimbra Jr.

Around the World in 80 Plants: An Edible Perennial Vegetable Adventure in Temperate Climates. By Stephen Barstow. Reviewed by Ada Grabowska-Zhang

The Ecology of Pastoralism. Edited by P. Nick Kardulias. Reviewed by Kārlis Rokpelnis

Ancient Pathways, Ancestral Knowledge: Ethnobotany and Ecological Wisdom of Indigenous Peoples of Northwestern North America. Vols. 1 & 2. Reviewed by Vanessa Mardones

Rivers, Fish, and the People: Tradition, Science, and Historical Ecology of Fisheries in the American West. Edited by Pei-Lin Yu. Reviewed by Jonathan Dombrosky

Posted: 2016-04-08
More...

Improvements: EBL Adopts Creative Commons License

Ethnobiology Letters (EBL) is pleased to announce that it has moved to a new licensing model based on Creative Commons licenses that more fully reflects the journal's open access vision. The latest generation of Creative Commons licenses help journals like EBL to fully embrace open access while allowing authors to retain their own copyrights, ensuring proper recognition of our journal's and Society's contribution, and discouraging third parties from using our publications for commercial gain. We intend to make this change starting with our first 2016 issue. Additionally, we have also applied this license to all previously published articles. Click "more" for further details about how this affects the rights of past and future authors.
Posted: 2016-02-04
More...

Of Interest: Support Ethnobiology Letters with a donation to the Society of Ethnobiology Online Publications Fund

Ethnobiology Letters remains free for readers and authors through generous support from the Society of Ethnobiology and its membership. The Society of Ethnobiology recently set up a special fund to support the organization's online publishing efforts, including Ethnobiology Letters and Contributions in Ethnobiology. In order to help keep EBL free of charge and help make it sustainable in the long term, please consider making a donation now!
Posted: 2016-01-14
More...

Improvements: Updated Author Guidelines

Ethnobiology Letters has just updated its author guidelines in order to assist authors in preparing manuscripts. Authors' 

diligence in closely following these guidelines is part of what makes our free, open-access publishing possible.

Posted: 2016-01-02
More...
Vol 7, No 1 (2016)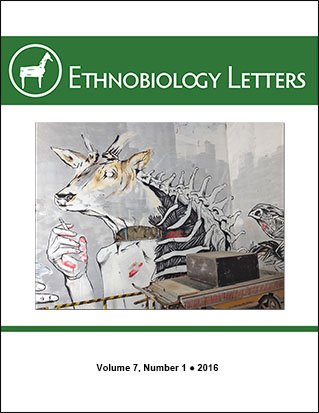 Cover image: Therianthropic and chimeric images are gaining in popularity again, as people re-imagine the connections, hybridizations, tresspassings and cross purposes of animal-human-plant relationships in the 21st century. Mural detail by artist/illustrator/street artist Tamara Alves, photographed in Lisbon, Portugal (2015) by Felice Wyndham.