Ethnobiology Letters (ISSN 2159-8126) is a gold open access, fully online, peer reviewed journal for publication of short communications concerning ethnobiology, the study of the relationships between humans and environments in diverse spatial and temporal contexts. Published by the Society of Ethnobiology, with support from its membership, EBL does not currently charge publication fees. Articles are published on a rolling basis in one annual issue, with occasional thematic issues. EBL is indexed in Scopus, Web of Science, EBSCOhost, and DOAJ. For more information about submitting articles, see Author Guidelines and Online Submissions.
Please help us remain free of charge to readers and authors by becoming a member of the Society of Ethnobiology or making a donation to our Online Publications Fund.
Announcements
New Articles: Editorial looks towards plurality and diversity in ethnobiology in 2017

Ethnobiology Letters wraps up its regular annual issue with an editorial that reflects on some challenges to biodiversity and cultural diversity during the last year, as well as some areas of bright promise in 2017.

Posted: 2017-01-02
More...

Special Issue: Ethnobiology Letters publishes new special issue on "Memoirs and Memory"

Ethnobiology Letters has just published a special issue on "Memoirs and Memory," guest edited by John Richard Stepp. This issue seeks includes six original contributions accompanied by an editorial by Stepp. The articles are memoirs in the broadest sense, including reflections and analyses of unpublished data.

Table of Contents for Vol. 7, Issue 2: Special Issue on Memoirs and Memory

Posted: 2016-12-31
More...
Vol 8, No 1 (2017)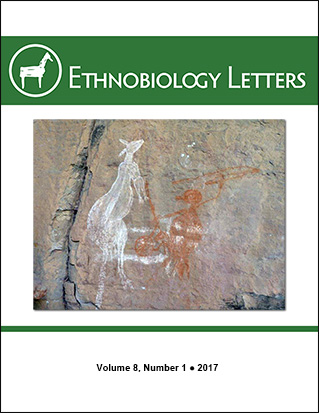 Cover image: Rock painting at Anbangbang Shelter, Kakadu National Park, Australia. The traditional owners of this location, who are no longer alive, were the Warramal clan. Photo by James R. Welch, 2016.