Ethnobiology Letters (ISSN 2159-8126) is a gold open access, fully online, peer reviewed journal for publication of short communications concerning ethnobiology, the study of the relationships between humans and environments in diverse spatial and temporal contexts. Published by the Society of Ethnobiology, with support from its membership, EBL does not currently charge publication fees. Articles are published on a rolling basis in one annual issue, with occasional thematic issues. EBL is indexed in Scopus, Web of Science, EBSCOhost, and DOAJ. For more information about submitting articles, see Author Guidelines and Online Submissions.
Please help us remain free of charge to readers and authors by becoming a member of the Society of Ethnobiology or making a donation to our Online Publications Fund.
Announcements
New Articles: New Research Communications Article

Viviana Albarracín and Enzo Aliaga-Rossel

Posted: 2018-12-31

New Articles: New Perspectives Article

Posted: 2018-11-28
Vol 9, No 2 (2018)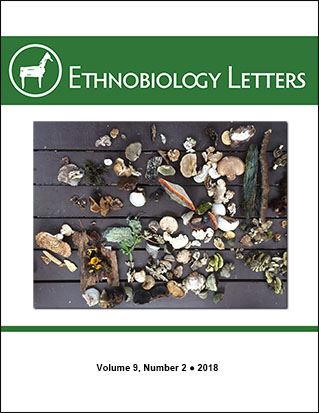 Cover image: Mycology excursion and mushroom picking at the 40th Annual Conference of the Society for Ethnobiology in Montréal, Québec, Canada. Participants foraged for fungi at Parc des Chutes de Sainte-Ursule. Photo by Liz Olson (2017).