Genotoxic Profile and Morphological Variation of the Amanita rubescens Complex: Traditional Knowledge for Safe Consumption in Mexico
Griselda Nallely Hernández-Rico

Centro de Investigaciones Biológicas, Universidad Autónoma del Estado de Hidalgo, Mineral de la Reforma, Hidalgo, México

Pablo Octavio-Aguilar

Centro de Investigaciones Biológicas, Universidad Autónoma del Estado de Hidalgo, Mineral de la Reforma, Hidalgo, México

http://orcid.org/0000-0002-4636-9773

Roberto Orijel-Garibay

Laboratorio de sistemática y ecología de micorrizas, Instituto de Biología, Universidad Nacional Autónoma de México, Coyoacán, México

Leticia Romero-Bautista

Centro de Investigaciones Biológicas, Universidad Autónoma del Estado de Hidalgo, Mineral de la Reforma, Hidalgo, México
Keywords:
Ethnomycology, Genotoxic profile, Edible mushrooms, α-Amanitin, Phallacidin
Abstract
Wild mushrooms are important to the nutritional health and economic subsistence of rural populations in Mexico, but inaccurate identification of mushrooms has led to reported cases of poisoning. The aim of this study is to establish genotoxic profiles of mushrooms of the putative Amanita rubescens complex and to link those profiles with morphological attributes that suggest a correct identification of mushrooms, in order to prevent poisoning. Several combinations of amplification products (AMA, PHA, POP1, and POP2 genes) were identified in A. rubescens fungi sold in traditional markets; these genes are related to the presence of toxic polypeptides and its enzymatic regulators. The sequences correspond to a previously reported toxic gene family (MSDIM). All samples with the complete toxic gene profile presented reddish to dark-brown sporomes; this is the only attribute that visually distinguishes samples with toxic potential. Our results suggest that the mushrooms sold in traditional Mexican markets do not correspond to the A. rubescens complex. We conclude that morphological variability allows for identification of edible and inedible mushrooms.
References
Anderl, J., H. Echner, and H. Faulstich. 2012. Chemical Modification Allows Phallotoxins and Amatoxins to be Used as Tools in Cell Biology. Beilstein Journal of Organic Chemistry 8:2072–2084. DOI:10.3762/bjoc.8.233.
Bandala, V. M., L. Montoya, and I. Chapela. 1997. Wild Edible Mushrooms in Mexico: A Challenge and Opportunity for Sustainable Development. In Mycology in Sustainable Development: Expanding Concepts, Vanishing Borders, edited by M. Palm, and I. Chapela, pp. 76–90. Parkway Publishers, Boone, NC.
Bandala, V. M., L. Montoya, R. Villegas, T. G. Cabrera, M. J. Gutiérrez, and T. Acero. 2014. "Nangañaña" (Tremelloscypha gelatinosa, Sebacinaceae), Hongo Silvestre Comestible del Bosque Tropical Deciduo en la Depresión Central de Chiapas, México. Acta Botánica Mexicana 106:149–159. DOI:10.21829/abm106.2014.216.
Burrola-Aguilar, C., O. Montiel, R. Garibay-Orijel, and L. Zizumbo-Villareal. 2012. Conocimiento Tradicional y Aprovechamiento de los Hongos Comestibles Silvestres en la Región de Amanalco, Estado de México. Revista Mexicana de Micología 35:1–16.
Cai, Q., R. E. Tulloss, L. P. Tang, B. Tolgor, P. Zhang, Z. H. Chen, and Z. L. Yang. 2014. Multi-locus Phylogeny of Lethal Amanitas: Implications for Species Diversity and Historical Biogeography. BMC Evolutionary Biology 14:143–158. DOI:10.1186/1471-2148-14-143.
Estrada-Martínez, E., G. Guzmán, T. D. Cibrián, and P. R. Ortega. 2009. Contribución al Conocimiento Etnomicológico de los Hongos Silvestres Comestibles en los Mercados Regionales y Comunidades de la Sierra Nevada (México). Interciencia 34:25–33.
Feregrino-Feregrino, C. A., M. R. Morales-Garza, M. Martínez-García, A. Monsalvo-Reyes, and J. E. Campos-Contreras. 2013. Descripción Molecular de Hongos Macromicetos del Género Amanita de Villa del Carbón, México, Empleando la Región LSU rDNA. Facultad de Ciencias y Tecnología 86–94.
Gardes, M., and T. D. Bruns. 1993. ITS Primers with Enhanced Specificity for Basidiomycetes-Application to the Identification of Mycorrhizae and Rusts. Molecular Ecology 2:113–118. DOI:10.1111/j.1365-294X.1993.tb00005.x.
Grame, K. A. 2014. Mycetism: A Review of the Recent Literature. Journal of Medical Toxicology 10:173–189. DOI:10.1007/s13181-013-0355-2.
Gry, J., and C. Andersson. 2014. Mushrooms Traded as Food. Tema Nord Press, Copenhagen, Denmark.
Guzmán, G. 1999. Los Hongos Comestibles, Medicinales y Sagrados en México. In La Etnobiología en México: Reflexiones y Experiencias, edited by M. A. Vásquez-Dávila, pp. 145–151. Secretaría de Educación Pública/Asociación Etnobiológica de México, Oaxaca, Mexico.
Hallen, H. E., H. Luo, J. S. Scott-Craig, and J. D. Walton. 2007. Gene Family Encoding the Major Toxins of Lethal Amanita Mushrooms. Proceedings of the National Academy of Sciences 104:19097–19101. DOI:10.1073/pnas.0707340104.
Hernández-Rico, G. N. 2011. Taxonomía y Etnomicología del Género Amanita Pers., en el Municipio de Acaxochitlán, Hidalgo. Master Dissertation, Postgraduate in Conservation and Biodiversity, Universidad Autónoma del Estado de Hidalgo. Mineral de la Reforma, Hidalgo, Mexico.
Herrera, T., and G. Guzmán. 1961. Taxonomía y Ecología de los Principales Hongos Comestibles de Diversos Lugares de México. Anales del Instituto de Biología, Serie Botánica 22:33–135.
Hunn, E. S., Y. Venegas-Ramírez, and M. A. Vásquez-Dávila. 2015. Where Do Fungi Fit? The Fungal Domain in Mixtepec-Zapotec. Journal of Ethnobiology 35:286–313. DOI:10.2993/etbi-35-02-286-313.1.
Jiménez-González, M., L. Romero-Bautista, M. A. Villavicencio-Nieto, and B. E. Pérez-Escandón. 2013. Los Hongos Comestibles de la Región de Molango de Escamilla, Hidalgo, México. In Estudios Científicos en el Estado de Hidalgo y Zonas Aledañas, Vol II, edited by G. Pulido-Flores and S. Monks, pp. 69–82. Universidad Autónoma del Estado de Hidalgo Press, Mineral de la Reforma, Hidalgo, Mexico.
Jo, W., A. Md. Hossain, and S. Park. 2014. Toxicological Profiles of Poisonous Edible and Medicinal Mushrooms. Mycobiology 42:215–220. DOI:10.5941/MYCO.2014.42.3.215.
Kendrick, B. 2000.The Fifth Kingdom. Focus Publishing, Newburyport, MA.
Kumar, S., G. Stecher, and K. Tamura 2015. MEGA7: Molecular Evolutionary Genetic Analysis. Version 7.0.26. Available at: http://www.kumarlab.net/publications. Accessed on December 5, 2017.
Largent, D. L., and T. J. Baroni. 1988. How to Identify Mushrooms to Genus VI: Modern Genera. Mad River Press, Eureka, CA.
Lima, A. D. L., R. Costa Flores, M. R. C. Garbi-Novaes, and S. Percário. 2012. Poisonous Mushrooms: A Review of the Most Common Intoxications. Nutrición Hospitalaria 27:402–408. DOI:10.1590/S0212-16112012000200009.
Lloyd, G. T. 2016. Estimating Morphological Diversity and Tempo with Discrete Character-Taxon Matrices: Implementation, Challenges, Progress, and Future Directions. Biological Journal of the Linnean Society 118:131–151. DOI:10.1111/bij.12746.
Luo, H., H. E. Hallen-Adams, J. S. Scott-Craig, and J. D. Walton. 2010. Colocalization of Amanitin and Candidate Toxin-processing Prolyloligo Peptidase in Amanita Basidiocarps. Eukaryotic Cell 9:1891–1900. DOI:10.1128/EC.00161-10.
Mariaca-Méndez R., L. Del C. Silva-Pérez, and C. A. Castaños-Montes. 2001. Proceso de Recolección y Comercialización de Hongos Comestibles Silvestres en el Valle de Toluca, México. Ciencia Ergo Sum 8:30–40. Available at: http://www.redalyc.org/articulo.oa?id=10402004. Accessed on December 7, 2017.
Montoya, A., O. Hernández-Totomoch, A. Estrada-Torres, A. Kong, and J. Caballero. 2003. Traditional Knowledge About Mushrooms in a Nahua Community in the State of Tlaxcala, Mexico. Mycologia 95:793–806. DOI:10.1080/15572536.2004.11833038.
Montoya, A., A. Kong, R. Garibay-Orijel, C. Méndez-Espinoza, R. E. Tulloss, and A. Estrada-Torres. 2014. Availability of Wild Edible Fungi in La Malinche National Park, México. Journal of Mycology 241806. DOI:10.1155/2014/241806.
Odenthal, K. P., R. Seeger, R. Braatz, E. Petzinger, H. Moshaf, and C. Schmitz-Drager. 1982. Damage in Vitro to Various Organs and Tissues by Rubescenslysins from the Edible Mushroom Amanita rubescens. Toxicon 20:765–781. DOI:10.1016/0041-0101(82)90124-6.
Parnmen, S., S. Sikaphan, S. Leudang, T. Boonpratuang, A. Rangsiruji, and K. Naksuwankul. 2016. Molecular Identification of Poisonous Mushrooms Using Nuclear ITS Regions and Peptide Toxins: A Retrospective Study on Fatal Cases in Thailand. Journal of Toxicology Science 41:65–76. DOI:10.2131/jts.41.65.
Rodríguez-Muñoz, G., E. Zapata-Martelo, M. N. Rodríguez, V. Vázquez-García, B. Martínez-Corona, and I. Vizcarra-Bordi. 2012. Saberes Tradicionales, Acceso, Uso y Transformación de Hongos Silvestres Comestibles en Santa Catarina del Monte, Estado de México. Agricultura, Sociedad y Desarrollo 9:191–207.
Romero-Bautista, L. 2007. La Sistemática: Base del Conocimiento de la Biodiversidad. In Avances en la Taxonomía y Sistemática de los Hongos: Una Revisión General, edited by A. Contreras Ramos, C. Cuevas Cardona, I. Goyenechea, and U. Iturbe, pp. 67–74. Universidad Autónoma del Estado de Hidalgo Press, Mineral de la Reforma, Hidalgo, Mexico.
Ruan-Soto, F. 2018. Sociodemographic Differences in the Cultural Significance of Edible and Toxic Mushrooms Among Tsotsil Towns in the Highlands of Chiapas, Mexico. Journal of Ethnobiology and Ethnomedicine 14:32. DOI:10.1186/s13002-018-0232-9
Segeer, R., and B. Wachter. 1980. Rubescenslysin and Phallolysin Relase Marker Molecules from Phospholipids Cholesterol Liposomes. Acta Biochemistry and Biophysics 645:59–62.
Tullos, R. R., and J. E. Lindgreen. 1994. Amanita novinupta-α—A Rubescent, White Species from the Western United States and Southwestern Canada. Mycotaxon 51:179–190.
Walton, J. D., D. G. Panaccione, and H. E. Hallen. 2004. Peptide Synthesis without Ribosomes. In Advances in Fungal Biotechnology for Industry, Agriculture and Medicine, edited by J. Tkaczand L. Lange, pp. 127–162. Kluwer Academic, New York.
White, T. J., T. Bruns, S. Lee, and J. Taylor. 1990. Amplification and Direct Sequencing of Fungal Ribosomal RNA Genes for Phylogenetics. In PCR Protocols: A Guide to Methods and Applications, edited by M. A. Innis, D. H. Gelfand, J. J. Sninsky, and T. J. White, pp. 315–322. Academic Press, New York.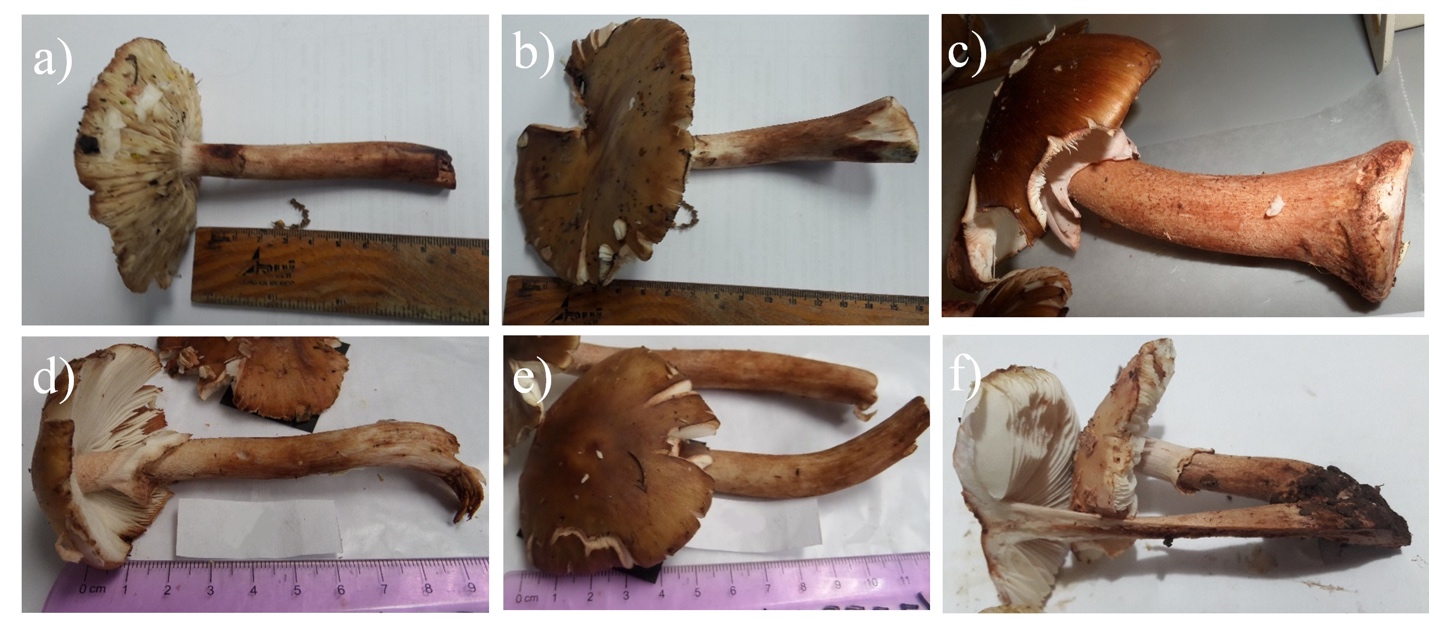 How to Cite
Hernández-Rico, G. N., Octavio-Aguilar, P., Orijel-Garibay, R., & Romero-Bautista, L. (2019). Genotoxic Profile and Morphological Variation of the Amanita rubescens Complex: Traditional Knowledge for Safe Consumption in Mexico. Ethnobiology Letters, 10(1), 76-85. https://doi.org/10.14237/ebl.10.1.2019.1259
Section
Research Communications
Copyright (c) 2019 Griselda Nallely Hernández-Rico, Pablo Octavio-Aguilar, Roberto Orijel-Garibay, Leticia Romero-Bautista
This work is licensed under a Creative Commons Attribution-NonCommercial 4.0 International License.
Authors who publish with this journal agree to the following terms:
Authors retain ownership of the copyright for their content and grant Ethnobiology Letters (the "Journal") and the Society of Ethnobiology right of first publication. Authors and the Journal agree that Ethnobiology Letters will publish the article under the terms of the Creative Commons Attribution-NonCommercial 4.0 International Public License (CC BY-NC 4.0), which permits others to use, distribute, and reproduce the work non-commercially, provided the work's authorship and initial publication in this journal are properly cited.
Authors are able to enter into separate, additional contractual arrangements for the non-exclusive distribution of the journal's published version of the work (e.g., post it to an institutional repository or publish it in a book), with an acknowledgement of its initial publication in this journal.
For any reuse or redistribution of a work, users must make clear the terms of the Creative Commons Attribution-NonCommercial 4.0 International Public License (CC BY-NC 4.0).
In publishing with Ethnobiology Letters corresponding authors certify that they are authorized by their co-authors to enter into these arrangements. They warrant, on behalf of themselves and their co-authors, that the content is original, has not been formally published, is not under consideration, and does not infringe any existing copyright or any other third party rights. They further warrant that the material contains no matter that is scandalous, obscene, libelous, or otherwise contrary to the law.
Corresponding authors will be given an opportunity to read and correct edited proofs, but if they fail to return such corrections by the date set by the editors, production and publication may proceed without the authors' approval of the edited proofs.