Rhynchophorus palmarum used in Traditional Medicine in the Peruvian Amazon
Cesar Delgado

Programa de Investigación en Biodiversidad, Instituto de Investigaciones de la Amazonía Peruana, Iquitos, Perú

http://orcid.org/0000-0002-4961-7736

Rosa Romero

Departamento de Lenguas Nativas y Extranjeras, Universidad Nacional de la Amazonía Peruana, Iquitos, Perú

Rosa Vásquez Espinoza

Program of Chemical Biology, University of Michigan, Ann Arbor, USA

Marcial Trigozo

Programa de Investigación en Biodiversidad, Instituto de Investigaciones de la Amazonía Peruana, Iquitos, Perú

Rocio Correa

Programa de Investigación en Biodiversidad, Instituto de Investigaciones de la Amazonía Peruana, Iquitos, Perú
Keywords:
Insects, Beetle, Larvae, Ethnomedicine, Peru
Abstract
Ethnoentomological research focuses on the wealth of knowledge about insects used by indigenous communities. Here, we examine the medicinal use of insects, with a particular focus on Rhynchophorus palmarum, also known as suri, by indigenous peoples in the Peruvian Amazon. Between January 2014 and November 2015, a semi-structured survey was conducted in six communities belonging to Kukama-kukamiria, Tikuna, and Awajum ethnic groups. Each participant answered three key questions: i) what insects do you use to treat your diseases; ii) what diseases do you treat; and iii) how do you treat each disease? A total of 63 people were interviewed. Over half of the interviewees from the three ethnic groups mentioned using the larva of the R. palmarum for medicinal purposes. The oil of the larva is used to treat more than ten diseases, particularly respiratory illnesses. Chemical analysis of the larvae indicates the presence of linoleic and linolenic acids, which confer antimicrobial and anti-inflammatory properties.
References
Almeida, A. V. 2005. Prescrições Zooterápicos Indígenas Brasileiras nas Obras de Guilherme Piso (1611–1679). Atualidades em Etnobiologia e Etnoecologia, edited by A. G. C. Alves, R. F. P. Lucena, and U. P. Albuquerque, pp. 47–601. Sociedade Brasileira de Etnobiologia e Etnoecologia Press, Recife, Brasil.
Alves, R. R. N., and T. L. P. Dias. 2010. Usos de Invertebrados na Medicina Popular no Brasil e suas Implicações para Conservação. Tropical Conservation Science 3:159–174. DOI:10.1177/194008291000300204.
Alves, R. R. N., and H. N. Alves. 2011. The Faunal Drugstore: Animal-Based Remedies Used in Traditional Medicines in Latin America. Journal of Ethnobiology and Ethnomedicine 7:2–43. DOI:10.1186/1746-4269-7-9.
Bourdy, G., S. DeWalt, A. Roca, L. R. Chavez de Michel, E. Deharo, V. Munoz, L. Balderrama, C. Quenevoc, and A. Gimenez. 2000. Medicinal Plants Uses of the Tacana, An Amazonian Bolivian Ethnic Group. Journal of Ethnopharmacology 70:87–109. DOI:10.1016/S0378-8741(99)00158-0.
Cartay, R. 2018. Between Shock and Disgust: The Consumption of Insects in the Amazon Basing. The Case Of Rhynchophorus Palmarum (Coleoptera: Curculionidae). Revista Colombiana de Antropología 54:143–169. DOI:10.22380/2539472x.465.
Casas, R. R., L. Pawera, P. P. P. Villegas, and Z. Polesny. 2018. Beetles, Ants, Wasps, or Flies? An Ethnobiological Study of Edible Insects among the Awajúm Amerindians in Amazonas Peru. Journal of Ethnobiology and Ethnomedicine 4:2–11. DOI:10.1186/s13002-018-0252-5.
Cerda, H., R. Martínez, N. Briceño, L. Pizzoferrato, P. Manzi, M. T. Ponzetta, O. Marín, and M. G. Paoletti. 2001. Palm Worm: (Rhynchophorus Palmarum) Traditional Food in Amazonas Venezuela-Nutritional Composition, Small Scale Production and Tourist Palatability. Ecology of Food and Nutrition 40:13–32. DOI:10.1080/03670244.2001.9991635.
Costa Neto, E. M. 2002. The Use of Insects in Folk Medicine in the State of Bahia, Northeastern Brazil, with Notes on Insects Reported Elsewhere in Brazilian Folk Medicine. Human Ecology 30:245–262. DOI:10.1023/A:1015696830997.
Costa Neto, E. M. 2005. Entomotherapy, or the Medicinal Use of the Insects. Journal of Ethnobiology 25:93–114. DOI:10.2993/0278-0771(2005)25[93:EOTMUO]2.0.CO;2.
Costa Neto, E., and M. J. Ramos-Elorduy. 2006. Los Insectos Comestibles de Brasil: Etnicidad, Diversidad e Importancia en la Alimentación. Boletín Sociedad Entomológica Aragonesa 38:423–442.
Costa Neto, E. M., J. Ramos-Elorduy, and J. M. Pino. 2006. Los Insectos Medicinales de Brasil: Primeros Resultados. Boletín Sociedad Entomológica Aragonesa 38:395–414.
Cherniack, E. P. 2010. Bugs as Drugs, Part 1: Insects. The "New" Alternative Medicine for the 21st Century. Alternative Medicine Review 15:124–135.
Delgado, C., G. Couturier, and K. Mejia. 2007. Mauritia Flexuosa (Arecaceae: Calamoideae), An Amazonian Palm with Cultivation Purposes in Peru. Fruits 62:157–168. DOI:10.1051/fruits:2007011.
Delgado, C., G. Couturier, P. Mathews, and K. Mejía. 2008. Producción y Comercialización de Larva de Rhynchophorus Palmarum (Coleoptera: Dryophtoridae) en la Amazonía Peruana. Boletín Sociedad Entomológica Aragonesa 41:407–412.
Dewich, M. P., ed. 2009. Medicinal Natural Products: A Biosynthetic Approach. 3rd edition. John Wiley, Chichester/West Sussex, United Kingdom.
Dué, E. A., H. C. B. L. Zabri, J. P. E. N. Kouadio, and L. P. Kouamé. 2009. Fatty Acid Composition and Properties of Skin and Digestive Fat Content Oils from Rhynchophorus Palmarum L. Larva. African Journal of Biochemistry Research 3:089–094.
DeFoliart, G. R. 1993. Hypothesizing about Palm Weevil and Palm Rhinoceros Beetles Larvae as Traditional Cuisine, Tropical Waste Recycling, and Pest and Disease Control on Coconut and Other Palms – Can They be Integrated?. Principes 37:42–47.
Dufour, D. L. 1987. Insects as Food: A Case Study from the Northwest Amazon. American Anthropologist 89:383–397. DOI:10.1525/aa.1987.89.2.02a00070.
Elagbar, A. Z., R. R. Naik, K. A. Shakya, and K. S. Bardaweel. 2016. Fatty Acids Analysis, Antioxidant and Biological Activity of Fixed Oil of Annona muricata L. Seeds. Journal of Chemistry 2016:1–6. DOI:10.1155/2016/6948098.
Feng, Y., M. Zhao, Z. He, Z. Chen, and L. Sun. 2009. Research and Utilization of Medicinal Insects in China. Entomological Research 39:313–316. DOI:10.1111/j.1748-5967.2009.00236.x.
Gbogouri, G. A., G. A. M. Beugre, K. Brou, O. A. Atchibri, and M. Linder. 2013. Rhynchophorus Palmarum L. Larva, An Edible Insect in Côte D'Ivoire: Nutritional Value and Characterization of the Lipid Fraction. International Journal of Chemistry Sciences 11:1692–1704.
Innis, S. M. 2016. Palmitic Acid in Early Human Development. Critical Reviews in Food Science and Nutrition 56:1952–1959. DOI:10.1080/10408398.2015.1018045.
Lopez, S., B. Bermudez, Y. M. Pacheco, A. Ortega, L. M. Varela, R. Abia, and F. J. G. Muriana. 2010. Oleic Acid: The Mail Component of Olive Oil on Postprandial Metabolic Processes. In Olives and Olive Oil in Health and Disease Prevention, edited by V. R. Preedy and R. R. Watson, pp. 1465–1479. DOI:10.1016/B978-0-12-374420-3.00154-6.
Lupoli, R. 2010. L'insecte médicinal. Ancyrosoma, Paris.
Manno, N., W. E. Zelada, C. T. Medina, C. T. Leon, C. Schwarzinger, M. List, W. Schoefberger, F. R. C. Mejía, J. L. Mostacero, A. Battisti, and M. G. Poeletti. 2018. Edible Insects and Other Chitin-Bearing Foods in Ethnic Peru: Accessibility, Nutritional Acceptance and Food-Security Implications. Journal of Ethnobiology 38:424–447. DOI:10.2993/0278-0771-38.3.424.
Mazars, G., E. Nastari-Micheli, and C. Mazars. 2004. Recherches Ethnopharmacologiques sur les Insects et Autres Arthropodes: L'intérệt de la Pharmacopée Chinoise Traditionnelle. Ethnopharmacologia 34:13–22.
MINEDU/Ministerio de Educación. 2013. Documento Nacional de Lenguas Originarias del Perú. MINEDU/Ministerio de Educación, Lima, Peru.
Onore, G. 2005. Edibles Insects in Ecuador. In Ecological lmplications of Minilivestocks, edited by M. G. Paoletti, pp. 343–352. Science Publishers, Enfield, NH.
Paoletti, M. G., E. Buscardo, and D. L. Dufour. 2000. Edible Invertebrates among Amazonian Indians: A Critical Review of Disappearing Knowledge. Environment, Development and Sustainability 2:195–225.
Pinazo-Duran, M. D., and L. Boscá-Gomar. 2012. Propiedades Antiinflamatorias de los Ácidos Grasos Poliinsaturados Omega-3. Indicaciones En Oftalmología. Archivos de la Sociedad Española de Oftalmología 87:203–205. DOI:10.1016/j.oftal.2012.04.003.
Sánchez, P., J. V. Hernandez, K. Haffe, and H. Cerda. 1993. Biecología Del Cocotero Rhynchophorus Palmarum L. Boletín de Entomología Venezolana 8:93–97.
Sancho, D., M. J. Alvarez, and L. R. Fernández. 2015. Insectos y Alimentación. Larvas de Rhynchophorus Palmarum L, un Alimento de los Pobladores de la Amazonía Ecuatoriana. Entomotropica 30:135–149.
Sancho, D., D. L. Valverde, G. D. Saravia, and G. M. J. Álvarez. 2015. Caracterización del Extracto Graso de Larvas de Rhynchophorus Palmarum L. Ciencia y Tecnología de Alimentos 25:39–43.
Santos, N. M. 2011. Insetos Comestíveis Na Alimentação Humana: Estratégia de Sobrevivência e Segurança Alimentar. In Antroentomofagia: Insetos na Alimentação Humana, edited by E. M. Costa Neto, pp. 123–138. Feira de Santana, UEFS Editora, Brasil.
Valenzuela, B. R., O., G. Tapia, E. M. González, and B. A. Valenzuela. 2011. Ácidos Grasos Omega-3 (EPA Y DHA) y su Aplicación en Diversas Situaciones Clínicas. Revista Chilena de Nutrición 38:356–367.
Vargas, G. E., G. Espinoza, C. Ruiz, and R. Rojas. 2013. Valor Nutricional de la Larva de Rhynchophorus Palmarum L.: Comida Tradicional en la Amazonía Peruana. Revista de la Sociedad Química del Perú 79:64–70.
Vera, C., and A. Brand. 2012. Aramanday Guasu (Rhynchophorus Palmarum) Como Alimento Tradicional Entre os Guarani Ñandéva na Aldeia Pirajuí. Tellus 23:97–126.
Waite, M., and S. J. Wakil. 1962. Studies on the Mechanism of Fatty Acid Synthesis XII. Acetyl Coenzyme a Carboxylase. Journal of Biological Chemistry 237:2750–2757.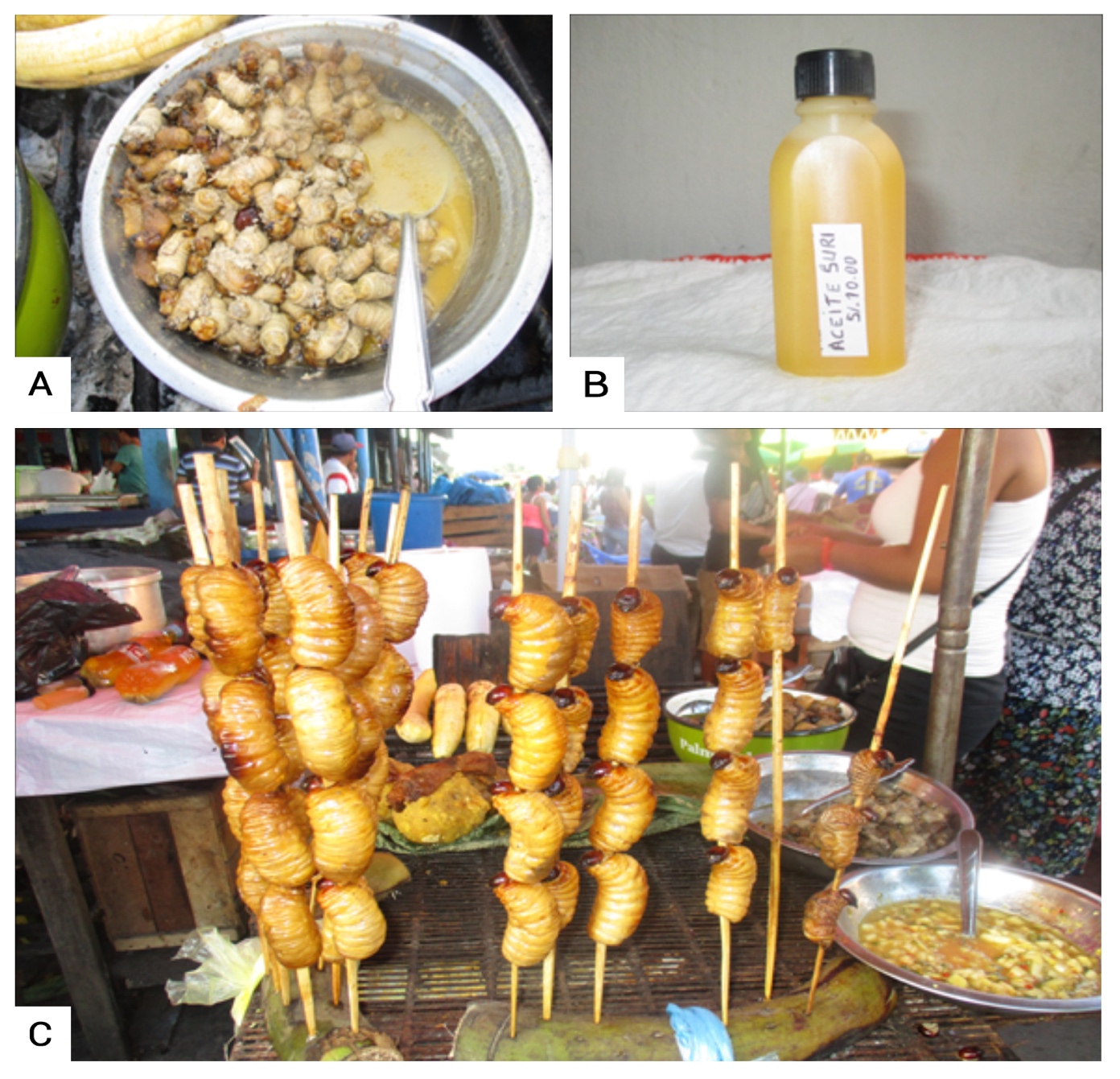 How to Cite
Delgado, C., Romero, R., Vásquez Espinoza, R., Trigozo, M., & Correa, R. (2019). Rhynchophorus palmarum used in Traditional Medicine in the Peruvian Amazon. Ethnobiology Letters, 10(1), 120-128. https://doi.org/10.14237/ebl.10.1.2019.1271
Section
Research Communications
Copyright (c) 2019 Cesar Delgado, Rosa Romero, Rosa Vásquez Espinoza, Marcial Trigozo, Rocio Correa
This work is licensed under a Creative Commons Attribution-NonCommercial 4.0 International License.
Authors who publish with this journal agree to the following terms:
Authors retain ownership of the copyright for their content and grant Ethnobiology Letters (the "Journal") and the Society of Ethnobiology right of first publication. Authors and the Journal agree that Ethnobiology Letters will publish the article under the terms of the Creative Commons Attribution-NonCommercial 4.0 International Public License (CC BY-NC 4.0), which permits others to use, distribute, and reproduce the work non-commercially, provided the work's authorship and initial publication in this journal are properly cited.
Authors are able to enter into separate, additional contractual arrangements for the non-exclusive distribution of the journal's published version of the work (e.g., post it to an institutional repository or publish it in a book), with an acknowledgement of its initial publication in this journal.
For any reuse or redistribution of a work, users must make clear the terms of the Creative Commons Attribution-NonCommercial 4.0 International Public License (CC BY-NC 4.0).
In publishing with Ethnobiology Letters corresponding authors certify that they are authorized by their co-authors to enter into these arrangements. They warrant, on behalf of themselves and their co-authors, that the content is original, has not been formally published, is not under consideration, and does not infringe any existing copyright or any other third party rights. They further warrant that the material contains no matter that is scandalous, obscene, libelous, or otherwise contrary to the law.
Corresponding authors will be given an opportunity to read and correct edited proofs, but if they fail to return such corrections by the date set by the editors, production and publication may proceed without the authors' approval of the edited proofs.