Zooarchaeological Approaches to the Identification of Bone Fat Production in the Archaeological Record
Keywords:
Zooarchaeology, Resource intensification, Food insecurity, Cuisine, Foodways
Abstract
Mammal fat is an important industrial product and ingredient in culinary dishes and medicines the world over, yet evidence for its use is not often identified in the archaeological record. I first give a brief overview of the importance of bone fats to subsistence and industrial economies. I follow this with criteria for identifying these activities archaeologically. This review concludes with why the identification of such activities is important to our understanding of ancient foodways
References
Bar-Oz, G. and N.D. Munro. 2004. Beyond Cautionary Tales: A Multivariate Taphonomic Approach for Resolving Equifinality in Zooarchaeological Studies. Journal of Taphonomy 2:201–221.
Binford, L. 1978. Nunamiut Ethnoarchaeology. Academic Press, New York, NY.
Blumenschine, R.J., and T.C. Madrigal. 1993. Variability in Long Bone Marrow Yields of East African Ungulates and its Zooarchaeological Implications. Journal of Archaeological Science 20:555–587. DOI:10.1006/jasc.1993.1034.
Bunn, H.T. 1981. Archaeological Evidence for Meat-Eating by Plio-Pleistocene Hominids from Koobi Fora and Olduvai Gorge. Nature 291:574–577. DOI:10.1038/291574a0.
Church, R.R., and L.R. Lyman. 2003. Small Fragments Make Small Differences in Efficiency When Rendering Grease from Fractured Artiodactyl Bones by Boiling. Journal of Archaeological Science 30:1077–1084. DOI:10.1016/S0305-4403(03)00010-4.
Karr, L.P., A.E.G. Short, L.A. Hannus, and A.K. Outram. 2014. A Bone Grease Processing Station at the Mitchell Prehistoric Indian Village: Archaeological Evidence for the Exploitation of Bone Fats. Environmental Archaeology 20:1–12. DOI:10.1179/1749631414Y.0000000035.
Morin, E. and M. Soulier. 2017. New Criteria for the Archaeological Identification of Bone Grease Processing. American Antiquity 82:96–122. DOI:10.1017/aaq.2016.16.
Mulville, J. and A. Outram. 2005. The Zooarchaeology of Fats, Oils, Milk, and Dairying. Oxbow, Oxford, UK.
Outram, A.K. 2001. A New Approach to Identifying Bone Marrow and Grease Exploitation: Why the "Indeterminate" Fragments Should Not be Ignored. Journal of Archaeological Science 28:401–410. DOI:10.1006/jasc.2000.0619.
Peres, T.M. 2018. Splitting the Bones: Marrow Extraction and Mississippian Period Foodways. In Baking, Bourbon, and Black Drink: Foodways Archaeology in the American Southeast, edited by T.M. Peres and A. Deter-Wolf, pp. 30–50. University of Alabama Press, Tuscaloosa, AL.
Prince, P. 2007. Determinants and Implications of Bone Grease Rendering: A Pacific Northwest Example. North American Archaeologist 28:1–28. DOI:10.2190/NA.28.1.a.
Speth, J.D. 2010. The Paleoanthropology and Archaeology of Big-Game Hunting: Protein, Fat, or Politics? Interdisciplinary Contributions to Archaeology. Springer, New York, NY. DOI:10.1007/978-1-4419-6733-6.
Speth, J.D., and K.A. Spielmann. 1983. Energy Source, Protein Metabolism, and Hunter-Gatherer Subsistence Strategies. Journal of Anthropological Archaeology 2:1-31. DOI:10.1016/0278-4165(83)90006-5.
Vehik, S.C. 1977. Bone Fragments and Bone Grease Manufacturing: A Review of Their Archaeological Use and Potential. Plains Anthropologist 22:169–182. DOI:10.1080/2052546.1977.11908805.
Wolverton, S., L. Nagaoka, J. Densmore, and B. Fullerton. 2008. White-Tailed Deer Harvest Pressure and Within-Bone Nutrient Exploitation During the Mid-to-Late Holocene in Southeast Texas. Before Farming 2008:1–23. DOI:10.3828/bfarm.2008.2.3.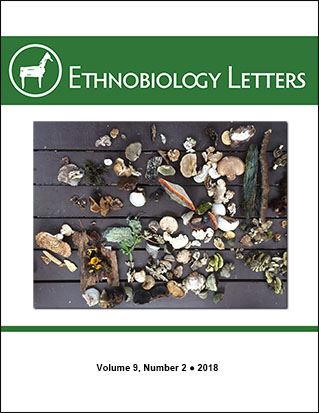 How to Cite
Peres, T. M. (2018). Zooarchaeological Approaches to the Identification of Bone Fat Production in the Archaeological Record. Ethnobiology Letters, 9(2), 107-109. https://doi.org/10.14237/ebl.9.2.2018.1291
Section
Short Topical Reviews
Copyright (c) 2018 Tanya M. Peres
This work is licensed under a Creative Commons Attribution-NonCommercial 4.0 International License.
Authors who publish with this journal agree to the following terms:
Authors retain ownership of the copyright for their content and grant Ethnobiology Letters (the "Journal") and the Society of Ethnobiology right of first publication. Authors and the Journal agree that Ethnobiology Letters will publish the article under the terms of the Creative Commons Attribution-NonCommercial 4.0 International Public License (CC BY-NC 4.0), which permits others to use, distribute, and reproduce the work non-commercially, provided the work's authorship and initial publication in this journal are properly cited.
Authors are able to enter into separate, additional contractual arrangements for the non-exclusive distribution of the journal's published version of the work (e.g., post it to an institutional repository or publish it in a book), with an acknowledgement of its initial publication in this journal.
For any reuse or redistribution of a work, users must make clear the terms of the Creative Commons Attribution-NonCommercial 4.0 International Public License (CC BY-NC 4.0).
In publishing with Ethnobiology Letters corresponding authors certify that they are authorized by their co-authors to enter into these arrangements. They warrant, on behalf of themselves and their co-authors, that the content is original, has not been formally published, is not under consideration, and does not infringe any existing copyright or any other third party rights. They further warrant that the material contains no matter that is scandalous, obscene, libelous, or otherwise contrary to the law.
Corresponding authors will be given an opportunity to read and correct edited proofs, but if they fail to return such corrections by the date set by the editors, production and publication may proceed without the authors' approval of the edited proofs.