Skookum Root: Ethnobotany of Hellebore (Veratrum viride) in Northwest British Columbia
Chelsey Geralda Armstrong

Department of Anthropology, National Museum of Natural History, Smithsonian Institute, Washington DC.
Keywords:
Ethnobotany, Green False Hellebore, Pacific Northwest, Traditional ecological knowledge, Veratrum viride
Abstract
This research considers some of the uses and harvest protocols of one of the most important medicinal plants for Indigenous peoples throughout British Columbia, Vertarum viride (skookum root, green false hellebore, Indian poke, Indian hellebore). The medicinal qualities of V. viride are well respected given its equally powerful ability to paralyze and kill. Using botanical, ethnographic, ethnohistoric, and linguistic data, a broad overview of hellebore is provided for the northwest coast of North America, followed by an in-depth consideration of Gitxsan harvest protocol, witnessed through participant observation.
References
Anderson, E. N. 2016. Caring for Place: Ecology, Ideology, and Emotion in Traditional Landscape Management. Left Coast Press, Walnut Creek, CA.
Burton, C. M. A. 2012. Wilaat Hooxhl Nisga'ahl [Galdoo'o][Ýans]: Gik'uuhl-gi, Guuń-sa ganhl Angoo gam´ Using Plants the Nisga'a Way: Past, Present and Future Use. Doctoral Dissertation, Environmental Studies, University of Victoria, Victoria, Canada. Available from ProQuest Dissertations and Theses database (NS28331).
Cove, J. J., and G. F. MacDonald. 1987. Tsimshian Narratives I: Tricksters, Shamans and Heroes. Canadian Museum of Civilization, Ottawa, Canada.
Deur, D., A. Dick, K. Recalma-Clutesi, and N. J. Turner. 2015. Kwakwaka'wakw "Clam Gardens". Human Ecology 43:201–212. DOI:10.1007/s10745-015-9743-3.
Edwards, G. T. 1980. Bella Coola Indian and European Medicines. The Beaver 311:4–11.
Elek, S. R., J. D. McNair, and G. C. Griffith. 1953. Veratrum Viride—Hypotensive and Cardiac Effects of Intravenous Use. California Medicine 79:300–305.
Emmons, G. T. 1991. The Tlingit Indians, edited by Frederica de Laguna. University of Washington Press, Seattle, WA.
Fried, J., H. L. White, and O. Wintersteiner. 1950. The Hypotensive Principles of Veratrum Viride. Journal of the American Chemical Society 72:4621–4630. DOI:10.1021/ja01166a080.
Gottesfeld, L. M. J., and B. Anderson. 1988. Gitksan Traditional Medicine: Herbs and Healing. Journal of Ethnobiology 8:13–33.
Jaffe, A. M., D. Gephardt, and L. Courtemanche. 1990. Poisoning Due to Ingestion of Veratrum Viride (False Hellebore). Journal of Emergency Medicine 8:161–167. DOI:10.1016/0736-4679-90-90226.
Johnson, L. M. 1997. Health, Wholeness, and the Land: Gitksan Traditional Plant Use and Healing. Doctoral Dissertation, Department of Anthropology, University of Alberta, Edmonton, Canada.
Johnson, L. M. 2006. Gitksan Medicinal Plants-cultural Choice and Efficacy. Journal of Ethnobiology and Ethnomedicine 2:29. DOI:10.1186/1746-4269-2-29.
Kingsbury, J. M. 1964. Poisonous Plants of the United States and Canada. Prentice-Hall, Englewood Cliffs, NJ.
Klinkenberg, B. 2013. Developing Ecological Frameworks for BC Vascular Plants: Analyzing BEC Plot Data [web page]. Available at: http://ibis.geog.ubc.ca/biodiversity/eflora/. Accessed on March 20, 2018.
Lewis, M., and W. Clark. 1997. The Journals of Lewis and Clark, vol. 31. Houghton Mifflin Harcourt, Boston.
Pojar, J., and A. MacKinnon. 2004. Plants of the Pacific Northwest Coast. Partners Publishing Group, Holt, MI.
Schep, L. J., R. J. Slaughter, J. A. Vale, and P. Wheatley. 2014. Was the Death of Alexander the Great due to Poisoning? Was it Veratrum Album?. Clinical Toxicology 52:72–77. DOI:10.3109/15563650.2013.870341.
Shepard, H. H. 1951. Pyrethrins, Rotenone, and Miscellaneous Plant Extractives. In The Chemistry and Action of Insecticides, edited by H. H. Shepard, pp. 144–190. McGraw-Hill, New York.
Smith, H. I. 1926. Gitksan Ethnobotany. Unpublished manuscript prepared for the National Museum of Canada. National Museum of Canada, Ottawa, ON.
Smith, H. I. 1997. Ethnobotany of the Gitksan Indians of British Columbia, edited by B. D. Compton, B. Rigsby, and M. L. Tarpent. Canadian Museum of Civilization, Hull, Canada.
Senthilkumaran, S., R. Meenakshisundaram, and P. Thirumalaikolundusubramanian. 2014. Plant Toxins and the Heart. In Heart and Toxins, edited by M. Ramachandran, pp. 151–174. DOI:10.1016/B978-0-12-416595-3.00005-0.
Turner, N. J. 1995. Food Plants of Coastal First Peoples. UBC Press, Vancouver, Canada.
Turner, N. J. 2014. Ancient Pathways, Ancestral Knowledge: Ethnobotany and Ecological Wisdom of Indigenous Peoples of Northwestern North America, 2 vols. McGill-Queen's University Press, Montreal, Canada.
Turner, N. J., and F. E. Davidson. 2004. Plants of Haida Gwaii. Sono Nis Press, Winlaw, Canada.
Wilson, S., P. Pierre, M. Howard, and G. Russell. 1984. Some Medicinal Remedies of the Gitksan People. Unpublished Manuscript, Kitsegukla Band Council, Kitsegukla, Canada.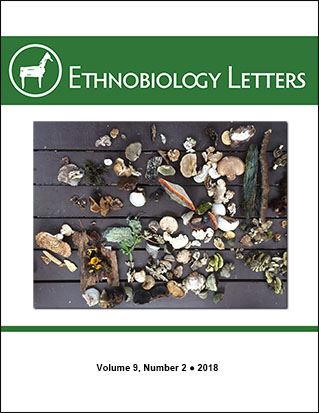 How to Cite
Armstrong, C. G. (2018). Skookum Root: Ethnobotany of Hellebore (Veratrum viride) in Northwest British Columbia. Ethnobiology Letters, 9(2), 197-205. https://doi.org/10.14237/ebl.9.2.2018.1298
Section
Research Communications
Copyright (c) 2018 Chelsey Geralda Armstrong
This work is licensed under a Creative Commons Attribution-NonCommercial 4.0 International License.
Authors who publish with this journal agree to the following terms:
Authors retain ownership of the copyright for their content and grant Ethnobiology Letters (the "Journal") and the Society of Ethnobiology right of first publication. Authors and the Journal agree that Ethnobiology Letters will publish the article under the terms of the Creative Commons Attribution-NonCommercial 4.0 International Public License (CC BY-NC 4.0), which permits others to use, distribute, and reproduce the work non-commercially, provided the work's authorship and initial publication in this journal are properly cited.
Authors are able to enter into separate, additional contractual arrangements for the non-exclusive distribution of the journal's published version of the work (e.g., post it to an institutional repository or publish it in a book), with an acknowledgement of its initial publication in this journal.
For any reuse or redistribution of a work, users must make clear the terms of the Creative Commons Attribution-NonCommercial 4.0 International Public License (CC BY-NC 4.0).
In publishing with Ethnobiology Letters corresponding authors certify that they are authorized by their co-authors to enter into these arrangements. They warrant, on behalf of themselves and their co-authors, that the content is original, has not been formally published, is not under consideration, and does not infringe any existing copyright or any other third party rights. They further warrant that the material contains no matter that is scandalous, obscene, libelous, or otherwise contrary to the law.
Corresponding authors will be given an opportunity to read and correct edited proofs, but if they fail to return such corrections by the date set by the editors, production and publication may proceed without the authors' approval of the edited proofs.