Linguistic Influence on Russian and American Ethnobiological Categorization
Justin M. Nolan

Department of Anthropology, University of Arkansas, Fayetteville

http://orcid.org/0000-0002-8667-5628

Aina Zaresheva

Department of Russian and Slavonic Studies, University of Missouri, Columbia

Michael C. Robbins

Department of Anthropology, University of Missouri, Columbia
Keywords:
Linguistic ethnobiology, Cognition and classification, Linguistic relativity, Triad sorts, Folk taxonomies
Abstract
In the Russian language, nouns are classified by gender and animacy, whereas in English, nouns are not. Using triad-sorts of names for biological and non-biological taxa, a comparison of results provided by native speakers of both languages reveals that cognitive categorizations of animate and inanimate nomenclatural forms differ significantly between speakers of Russian and American English. Speakers of American English appear to categorize names for living nouns more by phenotype than do Russians, who in turn appear to classify nouns more frequently on the basis of linguistic features such as gender. These results are believed to be pertinent to the elicitation and construction of folk ethnobiology taxonomies.
References
Baker, M. 2003. Lexical Categories: Verbs, Nouns, and Adjectives. Cambridge University Press, Cambridge, UK.
Beresford, M. 1965. Complete Russian Course for Scientists. Clarendon Press, Oxford, UK.
Berlin, B. 1992. Ethnobiological Classification: Principles of Categorization of Plants and Animals in Traditional Societies. Princeton University Press, Princeton, NJ.
Brown, C. 2001. Linguistic Ethnobiology: Amerindian Oak Nomenclature. In Ethnobiology at the Millennium: Past Promise and Future Prospects, edited by R. Ford, pp. 111–148. Anthropological Papers 91, University of Michigan, Museum of Anthropology, Ann Arbor, MI.
Burton, M., and L. Kirk. 1976. The Semantic Reality of Bantu Noun Classes: The Kikuyu Case. Studies in African Linguistics 7:157–74.
Carroll J., ed. 1956. Language, Thought, and Reality: Selected Writings of Benjamin Lee Whorf. MIT Press, Cambridge, MA.
Dilkina, K., J. McClelland, and L. Boroditsky. 2007. How Language Affects Thought in a Connectionist Model. Proceedings of the Annual Meeting of the Cognitive Science Society 29:215–220.
Hrzica, G., M. Palmovic, M. Kovacevic, M. Voelkova, K. Ivanova, and E. Galkina. 2015. Animacy and Case in the Acquisition of Differential Object Marking in Croatian and Russian. Revue de Linguistique Romane 60:351–368.
Hunn, E., and C. Brown. 2011. Linguistic Ethnobiology. In Ethnobiology, edited by E. Anderson, D. Pearsall, E. Hunn, and N. Turner, pp. 319–334. Wiley-Blackwell, Hoboken, NJ.
Kilarski, M. 2013. Nominal Classification: A History of its Study from the Classical Period to the Present. John Benjamin, Philadelphia, PA.
Klenin, E. 1983. Animacy in Russian: A New Interpretation. Slavica Publishers, Columbus, OH.
Kravchenko, A. 2002. The Cognitive Roots of Gender in Russian. Glossos 3:1–13.
Lucy, J. 1997. Linguistic Relativity. Annual Review of Anthropology 26:291–312. DOI:10.1146/annurev.anthro.26.1.291.
Mandelbaum, D., ed. 1949. The Selected Writings of Edward Sapir in Language, Culture, and Personality. University of California Press, Berkeley, CA.
Nolan, J. M., and M. C. Robbins. 2001. Emotional Meaning and the Cognitive Organization of Ethnozoological Domains. Journal of Linguistic Anthropology 11:240–249. DOI:10.1525/jlin.2001.11.2.240.
Weller, S. 1998. Structured Interviewing and Questionnaire Construction. In Handbook of Methods in Cultural Anthropology, edited by H. R. Bernard, pp. 365–410. Altamira Press, Walnut Creek, CA.
Winkler-Rhoades, N., D. Medin, S. Waxman, J. Woodring, and N. Ross. 2010. Naming the Animals that Come to Mind: Effects of Culture and Experience on Category Fluency. Journal of Cognition and Culture 10:205–220. DOI:10.1163/156853710x497248.
Zubin, D., and K. Kopke. 1986. Gender and Folk Taxonomy: The Indexical Relation between Grammatical and Lexical Categorization. In Noun Classes and Categorization, edited by C. Craig, pp. 139–180. John Benjamin, Philadelphia, PA.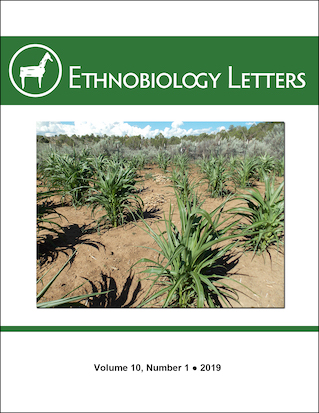 How to Cite
Nolan, J. M., Zaresheva, A., & Robbins, M. C. (2019). Linguistic Influence on Russian and American Ethnobiological Categorization. Ethnobiology Letters, 10(1), 18-22. https://doi.org/10.14237/ebl.10.1.2019.1497
Section
Research Communications
Copyright (c) 2019 Justin Nolan
This work is licensed under a Creative Commons Attribution-NonCommercial 4.0 International License.
Authors who publish with this journal agree to the following terms:
Authors retain ownership of the copyright for their content and grant Ethnobiology Letters (the "Journal") and the Society of Ethnobiology right of first publication. Authors and the Journal agree that Ethnobiology Letters will publish the article under the terms of the Creative Commons Attribution-NonCommercial 4.0 International Public License (CC BY-NC 4.0), which permits others to use, distribute, and reproduce the work non-commercially, provided the work's authorship and initial publication in this journal are properly cited.
Authors are able to enter into separate, additional contractual arrangements for the non-exclusive distribution of the journal's published version of the work (e.g., post it to an institutional repository or publish it in a book), with an acknowledgement of its initial publication in this journal.
For any reuse or redistribution of a work, users must make clear the terms of the Creative Commons Attribution-NonCommercial 4.0 International Public License (CC BY-NC 4.0).
In publishing with Ethnobiology Letters corresponding authors certify that they are authorized by their co-authors to enter into these arrangements. They warrant, on behalf of themselves and their co-authors, that the content is original, has not been formally published, is not under consideration, and does not infringe any existing copyright or any other third party rights. They further warrant that the material contains no matter that is scandalous, obscene, libelous, or otherwise contrary to the law.
Corresponding authors will be given an opportunity to read and correct edited proofs, but if they fail to return such corrections by the date set by the editors, production and publication may proceed without the authors' approval of the edited proofs.