How to Carry Out a Democratic Ethnobotanical Study
Pedro Crepaldi Carlessi

Centro de Estudos de Religiosidades Contemporâneas e das Culturas Negras, University of São Paulo, São Paulo, Brazil
Keywords:
Cosmopolitics, Ethnobotany, Science studies, Sacred leaves, Umbanda
Abstract
This contribution aims to share some experiences and methodological considerations that arose during an ethnobotanical research project with an Afro-Brazilian religious community in the city of São Paulo, Brazil. By presenting ontological features of plants used in religious practices, and the ways relations are created within this religious cosmology, this work opens a discussion about the political commitments of doing contemporary ethnobotanical science. When the ways of being and living in communities considered "traditional"—here referring to Afro-Brazilian religious communities, and specifically to the Umbanda Afro-Brazilian religion—are treated as equally valid, questions arise about the reaches of our own scientific practices, creating possibilities to construct practices and policies that preserve these communities' vitality in the face of the overwhelming imposition of colonialism. In this sense, ethnobotanical research is at an analytical crossroads that can give the field an advantage over the political paralysis of the sciences and over the clandestine politicization of science as the spokesperson for a singular nature. These considerations lead to self-reflection on scientific expertise and democratic ways of producing knowledge about plants in plural cultural contexts.
References
Amaral, R. 2009. Xirê!: O Modo de Crer e de Viver no Candomblé. Pallas, Rio de Janeiro, Brazil.
Agrawal, A. 1995. Dismantling the Divide Between Indigenous and Scientific Knowledge. Development and Change 26:413–439. DOI:10.1111/j.1467-7660.1995.tb00560.x.
Carneiro da Cunha, M. 2007. Relações e Dissensões Entre Saberes Tradicionais e Saber Científico. Revista USP 75:76–84.
Carlessi, P. C. 2017. Jeitos, Sujeitos e Afetos: Participação das Plantas na Composição de Médiuns Umbandistas. Boletim do Museu Paraense Emílio Goeldi. Ciências Humanas 12:855–868. DOI:10.1590/1981.81222017000300011.
Carlessi, P. C. 2015. Dimensão e Fluxo Material das Plantas em um Terreiro de Umbanda. Ava Revista de Antropologia 27:47–62.
Barros, J. F. P. D., and E. Napoleão 1999. Ewé Òrìṣà: Uso Litúrgico e Terapêutico dos Vegetais nas Casas de Candomblé Jêje-Nagô. Bertrand Brazil, Rio de Janeiro, Brazil.
Castor, K. G. 2015. Gira mundos: A Educação Ambiental no Mito e o Mito na Educação Ambiental. Doctoral Dissertation, Department of Education, Federal University of Espírito Santo, Vitória, Brazil. Available at: http://repositorio.ufes.br/bitstream/10/1306/1/Tese%20Katia%20Gon%c3%a7alves.pdf. Accessed on September 3, 2019.
Daly, L., K. French, T. L. Miller, and L. Nic Eoin. 2016. Integrating Ontology into Ethnobotanical Research. Journal of Ethnobiology 36:1–9. DOI:10.2993/0278-0771-36.1.1.
DeVore, J. 2017. The Mind of the Copaíba Tree: Notes on Extractivism, Animism, and Ontology from Southern Bahia. Ethnobiology Letters 8:115–124. DOI:10.14237/ebl.8.1.2017.965.
Fidalgo, O., and V. L. R. Bononi. 1989. Técnicas de Coleta, Preservação e Herborização de Material Botânico. Governo do Estado de São Paulo, Secretaria do Meio Ambiente, Instituto de Botânica, São Paulo, Brazil.
Latour, B. 1987. Science in Action: How to Follow Scientists and Engineers Through Society. Harvard University Press, Cambridge, MA.
Latour, B. 1999. Pandora's Hope: Essays on the Reality of Science Studies. Harvard University Press, Cambridge, MA.
Latour, B., and S. Woolgar. 2013. Laboratory Life: The Construction of Scientific Facts. Princeton University Press, Princeton, NJ.
Ludwig, D. 2018. Does Cognition Still Matter in Ethnobiology? Ethnobiology Letters 9:269–275. DOI:10.14237/ebl.9.2.2018.1350.
Mello, M. L., and S. S. Oliveira. 2013. Health, Religion and Culture: A Dialogue Based on Afro-Brazilian Customs. Saúde e Sociedade 22:1024–1035. DOI:10.1590/S0104-12902013000400006.
Moutinho-Da-Costa, L. 2013. Racismo Ambiental na Conservação da Natureza. In A Floresta: Educação, Cultura e Justiça Ambiental, edited by A. Mello Corrêa, L. Moutinho-da-Costa, and J. F. P. Barros, pp. 203–234. Garamond Universitária e FAPERJ, Rio de Janeiro, Brazil.
Oliveira, J. C. 2012. Entre Plantas e Palavras. Modos de Constituição de Saberes Entre os Wajãpi (AP). Doctoral Dissertation, Department of Anthropology, University of São Paulo, São Paulo-Brazil. Available at: http://www.teses.usp.br/teses/disponiveis/8/8134/tde-22082012-100255/pt-br.php. Accessed on September 3, 2019.
Rêgo, J. 2006. Territórios do Candomblé : A Desterritorialização dos Terreiros na Região Metropolitana de Salvador, Bahia. GeoTextos 2:31–85. DOI:10.9771/1984-5537geo.v2i2.3038.
Rocha, J. A., E. Neffa, and L. Leandro. 2014. The Contribution of Ethnobotany in the Elaboration of Public Policies on the Environment: A Challenge in Bringing. Ambiciência 10:43–64. DOI:10.5935/ambiencia.2014.01.04.
Silva, V. G. 2005. Candomblé e Umbanda: Caminhos da Devoção Brazileira: Selo Negro, São Paulo, Brazil.
Voeks, R. A. 1997. Sacred Leaves of Candomblé: African Magic, Medicine, and Religion in Brazil. University of Texas Press, Austin, TX.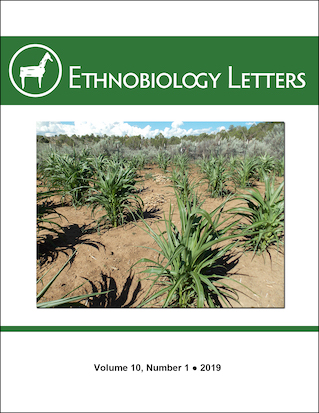 How to Cite
Carlessi, P. C. (2019). How to Carry Out a Democratic Ethnobotanical Study. Ethnobiology Letters, 10(1), 113-119. https://doi.org/10.14237/ebl.10.1.2019.1547
Copyright (c) 2019 Pedro Crepaldi Carlessi
This work is licensed under a Creative Commons Attribution-NonCommercial 4.0 International License.
Authors who publish with this journal agree to the following terms:
Authors retain ownership of the copyright for their content and grant Ethnobiology Letters (the "Journal") and the Society of Ethnobiology right of first publication. Authors and the Journal agree that Ethnobiology Letters will publish the article under the terms of the Creative Commons Attribution-NonCommercial 4.0 International Public License (CC BY-NC 4.0), which permits others to use, distribute, and reproduce the work non-commercially, provided the work's authorship and initial publication in this journal are properly cited.
Authors are able to enter into separate, additional contractual arrangements for the non-exclusive distribution of the journal's published version of the work (e.g., post it to an institutional repository or publish it in a book), with an acknowledgement of its initial publication in this journal.
For any reuse or redistribution of a work, users must make clear the terms of the Creative Commons Attribution-NonCommercial 4.0 International Public License (CC BY-NC 4.0).
In publishing with Ethnobiology Letters corresponding authors certify that they are authorized by their co-authors to enter into these arrangements. They warrant, on behalf of themselves and their co-authors, that the content is original, has not been formally published, is not under consideration, and does not infringe any existing copyright or any other third party rights. They further warrant that the material contains no matter that is scandalous, obscene, libelous, or otherwise contrary to the law.
Corresponding authors will be given an opportunity to read and correct edited proofs, but if they fail to return such corrections by the date set by the editors, production and publication may proceed without the authors' approval of the edited proofs.