Palaeoethnobotanical Data from the High Mountainous Early Bronze Age Settlement of Tsaghkasar-1 (Mt. Aragats, Armenia)
Roman Hovsepyan

Institute of Archaeology and Ethnography NAS RA, 15 Charents St., 0025, Yerevan, Armenia
Keywords:
palaeoethnobotany, mountainous, Bronze Age, South Caucasus
Abstract
Palaeoethnobotanical investigations suggest that at least part of the Early Bronze Age population of Tsaghkasar was settled and practiced agriculture in the high mountainous zone. People there appear to have cultivated hexa‐ and tetraploid wheats (probably bread wheat and emmer) and barley (possibly hulled). Bronze Age agriculture in the Southern Caucasus differs from earlier and later period when cultivation of pulses, oil‐producing plants, and other plants was common. This emphasis on the cultivation and use of certain cereal grains at Early Bronze sites such as Tsaghkasar can tentatively be added to a constellation of practices associated with the Kura‐Araxes culture in the South Caucasus.
References
Avetisyan, P. 2009. Report of 2008 excavation season of Tsaghkasar-1 Early Bronze Age settlement. Reports of archaeological field-work (2008) of Institute of Archaeology and Ethnography NAS RA, Part 1, Yerevan, pp. 189-194 (in Armenian).
Hovsepyan, R. and I. G. Gabrielyan. 2002. Palaeocarpological Finds from High Mountainous Peat-bog of Mt. Aragats (Republic of Armenia). Ecological Journal of Armenia 2:17-22 (in Armenian).
Hovsepyan, R. and G. Willcox 2008. The Earliest Finds of Cultivated Plants in Armenia: Evidence from
Charred Remains and Crop Processing Residues in Pisé from the Neolithic Settlements of Aratashen and
Aknashen. Vegetation History and Archaeobotany 17:63-71.
Hovsepyan, R. 2009. The palaeobotanical remains from Early Bronze Age Gegharot (Appendix 2). In: Badalyan, R., A. T. Smith, I. Lindsay, L. Khatchadourian, P. Avetisyan, with appendices by B. Monahan and R. Hovsepyan. 2009. Village, Fortress, and Town in Bronze and Iron Age Southern Caucasia: A preliminary report on the 2003-2006 investigations of Project ArAGATS on the Tsaghkahovit Plain, Republic of Armenia. ArchäologischeMitteilungen aus Iran und Turan 40:45-105.
Hovsepyan, R. 2009. Field Crops and Common Weeds at the Territory of Armenia in Neolithic – Iron Age
Periods. Unpublished Doctoral Dissertation, Department of Agriculture, Armenian State Agrarian University, Yerevan (in Armenian).
Hovsepyan, R. 2010. New Data on Agriculture of Aparan-III Early Bronze Age Settlement (Armenia). Biological Journal of Armenia 4:31-37.
Hovsepyan, R. 2010. Preliminary Data on the Prehistoric Agriculture of the Southern Caucasus (The
Main Phases of Development). Paper Presented at the 15th Conference of the International Work Group for Palaeoethnobotany. Wilhelmshaven, Germany (www.nihk.de).
Lisitsina, G. N. and L. V. Prishchepenko. 1977. Palaeoethnobotanical finds of Caucasus and Near East. Nauka, Moscow (in Russian).
Wasylikowa, K., M. Carciumaru, E. Hajnalova, B. P. Hartyanyi, G. A. Pashevich and Z. V. Yanushevich. 1991. East-Central Europe. In Progress in Old World Palaeoethnobotany, edited by W. van Zeist, K. Wasylikowa and K.-E. Behre, pp. 207-239. Balkema, Rotterdam, Brookfield.
Willcox, G., S. Fornite and L. Herveux. 2008. Early Holocene Cultivation before Domestication in
Northern Syria. Vegetation History and Archaeobotany 17:313-325.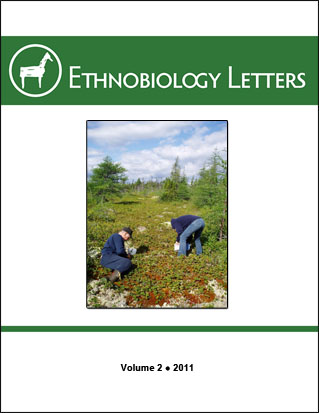 How to Cite
Hovsepyan, R. (2011). Palaeoethnobotanical Data from the High Mountainous Early Bronze Age Settlement of Tsaghkasar-1 (Mt. Aragats, Armenia). Ethnobiology Letters, 2, 58-62. https://doi.org/10.14237/ebl.2.2011.25
Section
Research Communications
Copyright (c) 2011 Ethnobiology Letters
This work is licensed under a Creative Commons Attribution-NonCommercial 4.0 International License.
Authors who publish with this journal agree to the following terms:
Authors retain ownership of the copyright for their content and grant Ethnobiology Letters (the "Journal") and the Society of Ethnobiology right of first publication. Authors and the Journal agree that Ethnobiology Letters will publish the article under the terms of the Creative Commons Attribution-NonCommercial 4.0 International Public License (CC BY-NC 4.0), which permits others to use, distribute, and reproduce the work non-commercially, provided the work's authorship and initial publication in this journal are properly cited.
Authors are able to enter into separate, additional contractual arrangements for the non-exclusive distribution of the journal's published version of the work (e.g., post it to an institutional repository or publish it in a book), with an acknowledgement of its initial publication in this journal.
For any reuse or redistribution of a work, users must make clear the terms of the Creative Commons Attribution-NonCommercial 4.0 International Public License (CC BY-NC 4.0).
In publishing with Ethnobiology Letters corresponding authors certify that they are authorized by their co-authors to enter into these arrangements. They warrant, on behalf of themselves and their co-authors, that the content is original, has not been formally published, is not under consideration, and does not infringe any existing copyright or any other third party rights. They further warrant that the material contains no matter that is scandalous, obscene, libelous, or otherwise contrary to the law.
Corresponding authors will be given an opportunity to read and correct edited proofs, but if they fail to return such corrections by the date set by the editors, production and publication may proceed without the authors' approval of the edited proofs.