Sustainable Science? Reducing the Carbon Impact of Scientific Mega-Meetings
Alexandra G. Ponette-González

Department of Geography, University of North Texas, 1155 Union Circle #305279, Denton, TX 76203, USA,

Jarrett E. Byrnes

National Center for Ecological Analysis and Synthesis, Santa Barbara, CA 93101, USA
Keywords:
Carbon Footprint, Greening the Meeting, Scientific Conferences, Planning, Sustainability
Abstract
Scientists across the globe recognize the importance of reducing carbon emissions to combat climate change.  At the same time, we have increased our carbon footprint through air travel to the growing number of scientific society "mega-meetings" that host thousands of attendees.  Although alternative solutions have been proposed to reduce the environmental impact of annual conferences, these have yet to be evaluated against the business-as-usual scenario.  Here, we use 9 years of annual meeting attendance data from the Ecological Society of America and the Association of American Geographers to assess the efficacy of two additional solutions: 1) alternate large national meetings that require significant air travel with smaller regional meetings that do not; and 2) incorporate geography into the meeting location selection process.  The carbon footprint of annual mega-meetings ranged 3-fold, from 1196-4062 metric tons of CO2.  Results indicate that an alternating schedule of national and regional meetings can reduce conference-related CO2 emissions up to 73%, while improved spatial planning may result in further reductions.  We discuss the benefits and tradeoffs of proposals to green scientific meetings, with a view to spark further debate on how to increase the sustainability of scientific conferences.
References
Arslan, B. K., E. S. Boyd, W. W. Dolci, K. E. Dodson, M. S. Boldt, and C. B. Pilcher. 2011. Workshops without Walls: Broadening Access to Science around the World. PLoS Biology 9:1-5.
Bonnett, A. 2006. The Need for Sustainable Con-ferences. Area 38:229-230.
Burke, I. C. 2010. Travel Trade-Offs for Scientists. Science 330:1476.
Hall, E. 2007. Alternative Futures for Academic Conferences: A Response to Bonnett. Area 39:125-129.
Huang, S. T., M. N. Kamel Boulos and R. P. Dellavalle. 2008. Scientific discourse 2.0. Will Your Next Poster Session be in Second Life ®? EMBO Reports 9:496-499.
IEA (International Energy Agency) Statistics. 2010. CO2 Emissions from Fuel Combustion - Highlights 2010 Edition. International Energy Agency, Paris, France
Jarchow, M. E., J. W. Rice, R. M. Ritson, and S. K. Hargreaves. 2011. Awareness and convenience are important in increasing conference sustainability. Sustainability Science 6:253-254.
Kempton, W., J. S. Boster and J. A. Hartley. 1995. Environmental Values in American Culture. MIT Press, Cambridge, MA.
Lester, B. 2007. Greening the Meeting. Science 318:36-38.
McNutt, M. 2008. Scientific Meetings: Worth Attending. Science 319:281.
Mills, E. 2009. Sustainable Scientists. Environmental Science & Technology 43:979-985.
Philippe, H. 2008. Less is More: Decreasing the Number of Scientific Conferences to Promote Economic Degrowth. Trends in Genetics 24:265-267. Environment 360
Rosenthal, E. 2010. Toward Sustainable Travel: Breaking the Flying Addiction. Available at: http://e360.yale.edu/content/feature.msp?id=2280. Accessed on September 10, 2011.
Sills, J. 2011. Travel Trade-Offs for Scientists: Readers' Poll Results. Science 331:145.
SCB (Society for Conservation Biology). The Wild Rose Conservation Site: SCB's New Carbon Offset Project for 2010-2013. Available at: http://www.conbio.org/activities/committees/EcologicalFootprint/CarbonOffset/wildrose.cfm. Accessed on September 10, 2011.
Struck, D. Buying Carbon Offsets May Ease Eco-Guilt but not Global Warming. Available at: http://www.csmonitor.com/Environment/2010/0420/Buying-carbon-offsets-may-ease-eco-guilt-but-not-global-warming. Accessed on September 10, 2011.
Young, S. 2009. Rethinking Scientific Meetings: An Imperative in an Era of Climate Change. Journal of Psychiatry and Neuroscience 34:341–34.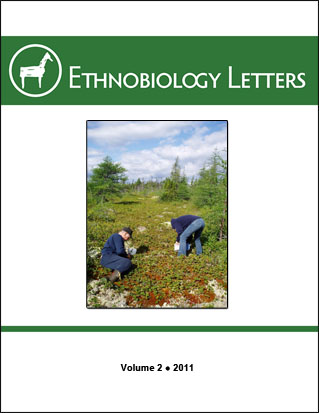 How to Cite
Ponette-González, A. G., & Byrnes, J. E. (2011). Sustainable Science? Reducing the Carbon Impact of Scientific Mega-Meetings. Ethnobiology Letters, 2, 65-71. https://doi.org/10.14237/ebl.2.2011.29
Copyright (c) 2011 Ethnobiology Letters
This work is licensed under a Creative Commons Attribution-NonCommercial 4.0 International License.
Authors who publish with this journal agree to the following terms:
Authors retain ownership of the copyright for their content and grant Ethnobiology Letters (the "Journal") and the Society of Ethnobiology right of first publication. Authors and the Journal agree that Ethnobiology Letters will publish the article under the terms of the Creative Commons Attribution-NonCommercial 4.0 International Public License (CC BY-NC 4.0), which permits others to use, distribute, and reproduce the work non-commercially, provided the work's authorship and initial publication in this journal are properly cited.
Authors are able to enter into separate, additional contractual arrangements for the non-exclusive distribution of the journal's published version of the work (e.g., post it to an institutional repository or publish it in a book), with an acknowledgement of its initial publication in this journal.
For any reuse or redistribution of a work, users must make clear the terms of the Creative Commons Attribution-NonCommercial 4.0 International Public License (CC BY-NC 4.0).
In publishing with Ethnobiology Letters corresponding authors certify that they are authorized by their co-authors to enter into these arrangements. They warrant, on behalf of themselves and their co-authors, that the content is original, has not been formally published, is not under consideration, and does not infringe any existing copyright or any other third party rights. They further warrant that the material contains no matter that is scandalous, obscene, libelous, or otherwise contrary to the law.
Corresponding authors will be given an opportunity to read and correct edited proofs, but if they fail to return such corrections by the date set by the editors, production and publication may proceed without the authors' approval of the edited proofs.