Ethnobotany of the Kiluhikturmiut Inuinnait of Kugluktuk, Nunavut, Canada
Jonathan Duffy Davis

Fullerton Arboretum, California State University

Sandra Anne Banack

Institute for Ethnomedicine
Keywords:
ethnobiology, Coronation Gulf, Arctic, specialized knowledge
Abstract
The disparity in floral diversity between tropical and arctic regions is reflected in a paucity of ethnobotanical research among arctic cultures.  The Kiluhikturmiut Inuinnait are an Inuit subpopulation who inhabit the Kitikmeot Region of the Territory of Nunavut in Canada's Arctic.  We conducted an ethnobotanical survey in the Inuinnait hamlet of Kugluktuk to document the traditional uses of plants as food, materials, and medicine.  Data were gathered through unstructured interviews, participant observation, purposive sampling, and voucher-specimen collection of all plants used.  Uses were documented for 23 plant species/types contained in 14 families.  Nine species/types were eaten, six species/types were used as materials, and 12 species were used for medicine.  Villagers shared common knowledge of plants used for food and materials; however, knowledge of medicinal plants was restricted to a single healer.  We argue that specialized knowledge such as the use of medicinal plants is important to document especially when the number individuals using this knowledge is dwindling.
References
Anderson, J. P. 1939. Plants used by the Eskimo of the northern Bering Sea and arctic regions of Alaska. American Journal of Botany 26:714-716.
Banack, S.A. and P. A. Cox. 1987. Ethnobotany of Ocean-Going Canoes in Lau, Fiji. Economic Botany 41:148-162.
Bliss, L. C. 1971. Arctic and Alpine Plant Life Cycles. Annual Review of Ecology and Systematics 2:405-438.
Boster, J. S. 1986. Exchange of Varieties and Information between Aguaruna Manioc Cultivators. American Anthropologist 88:428-436.
Boster, J. S. and J. C. Johnson. 1989. A Comparison of Expert and Novice Judgments of Similarity among Fish. American Anthropologist 91:866-889.
Condon, R. G. 1996. The Northern Copper Inuit: a History. University of Oklahoma Press, Norman, OK.
Cox, P. A. 1991. Polynesian Herbal Medicine. In Islands, Plants, and Polynesians, edited by P. A. Cox and S. A. Banack, pp. 147-169. Dioscorides Press, Portland, OR.
Dementi-Leonard, B. and P. Gilmore. 1999. Language Revitalization and Identity in Social Context: A Community-Based Athabascan Language Preservation Project in Western Interior Alaska. Anthropology & Education Quarterly 30:37-55.
Dritsas, P. 1986. Plants in Inuit culture: The Ethnobotany of the Iglulingmiut. Master's Thesis, Université Laval, Ville de Québec, Canada.
Griffin, D. 2001. Contributions to the Ethnobiology of the Cup'it Eskimo, Nunivak Island, Alaska. Journal of Ethnobiology 21:91-127.
Helgason, A., G. Pálsson, H. S. Pedersen, E. Angulalik, E. D. Gunnarsdóttir, B. Yngvadóttir and K. Stefánsson. 2006. mtDNA variation in Inuit Populations of Greenland and Canada: Migration History and Population Structure. American Journal of Physical Anthropology 130:123-134.
Jenness, D. 1916. Anthropological Notes. American Anthropologist 18:612-620.
Kuhnlein, H. V. and R. Soueida. 1992. Use and Nutrient Composition of Traditional Baffin Island Foods. Journal of Food Composition and Analysis 5:112-126.
Kuhnlein, H. V., H. M. Chan, D. Leggee and V. Barthet. 2002. Macronutrient, Mineral and Fatty Acid Composition of Canadian Arctic Traditional Food. Journal of Food Composition and Analysis 15:545-566.
Kuhnlein, H. V., O. Receveur, R. Soueida and G. M. Egeland. 2004. Arctic Indigenous Peoples Experience the Nutrition Transition with Changing Dietary Patterns and Obesity. Journal of Nutrition 124:1447-1453.
Porsild, A. E. 1953. Edible Plants of the Arctic. Arctic 6:15-34.
Porsild, A. E. and W. J. Cody. 1980. Vascular Plants of Continental Northwest Territories, Canada. National Museum of Natural Sciences, Ottawa.
Reyes-Garcia, V., E. Byron, V. Vadez, R. Godoy, L. Apaza, E. P. Limache, W. R. Leonard and D. Wilkie. 2004. Measuring Culture as Shared Knowledge: Do Data Collection Formats Matter? Cultural Knowledge of Plant Uses Among Tsimane' Amerindians, Bolivia. Field Methods 16:135-156.
Romney, A. K., S. C. Weller and W. H. Batchelder. 1986. A Theory of Culture and Informant Accuracy. American Anthropologist 88:313-338.
Rondon, X. J., S. A. Banack and W. Diaz-Huamanchumo. 2003. Ethnobotanical Investigation of Caballitos (Schoenoplectus californicus: Cyperaceae) in Huanchaco, Peru. Economic Botany 57:35-47.
Spradley, J. P. 1979. The Ethnographic Interview. Holt, Rinehart and Winston. New York.
Stefánsson, V. 1913. My Life with the Eskimo. Macmillan Company, New York.
Tongco, Ma. D. C. 2007. Purposive Sampling as a Tool for Informant Selection. Ethnobotany Research and Applications 5:147-158.
Usher, P. J. 1965. Economic Basis and Resource Use of the Coppermine-Holman Region. Department of Northern Affairs and National Resources, Ottawa.
Walker, M. D., C. H. Wahren, R. D. Hollister, G. H. R. Henry, L. E. Ahlquist, J. M. Alatalo, M. S. Bret-Harte, M. P. Calef, T. V. Callaghan, A. B. Carroll, H. E. Epstein, I. S. Jónsdóttir, J. A. Klein, B. Magnússon, U. Molau, S. F. Oberbauer, S. P. Rewa, C. H. Robinson, G. R. Shaver, K. N. Suding, C. C. Thompson, A. Tolvanen, Ø. Totland, P. L. Turner, C. E. Tweedie, P. J. Webber and P. A. Wookey. 2006. Plant Community Responses to Experimental Warming Across the Tundra Biome. Proceedings of the National Academy of Sciences 103:1342-1346.
Wenzel, G. 2004. From TEK to IQ: Inuit Qaujimajatuqangit and Inuit Cultural Ecology. Arctic Anthropology 41:238-250.
Zelditch, M. 1962. Some Methodological Problems of Field Studies. American Journal of Sociology 67:566-576.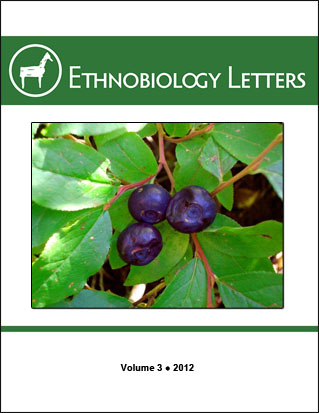 How to Cite
Davis, J. D., & Banack, S. A. (2012). Ethnobotany of the Kiluhikturmiut Inuinnait of Kugluktuk, Nunavut, Canada. Ethnobiology Letters, 3, 78-90. https://doi.org/10.14237/ebl.3.2012.31
Section
Research Communications
Copyright (c) 2012 Ethnobiology Letters
This work is licensed under a Creative Commons Attribution-NonCommercial 4.0 International License.
Authors who publish with this journal agree to the following terms:
Authors retain ownership of the copyright for their content and grant Ethnobiology Letters (the "Journal") and the Society of Ethnobiology right of first publication. Authors and the Journal agree that Ethnobiology Letters will publish the article under the terms of the Creative Commons Attribution-NonCommercial 4.0 International Public License (CC BY-NC 4.0), which permits others to use, distribute, and reproduce the work non-commercially, provided the work's authorship and initial publication in this journal are properly cited.
Authors are able to enter into separate, additional contractual arrangements for the non-exclusive distribution of the journal's published version of the work (e.g., post it to an institutional repository or publish it in a book), with an acknowledgement of its initial publication in this journal.
For any reuse or redistribution of a work, users must make clear the terms of the Creative Commons Attribution-NonCommercial 4.0 International Public License (CC BY-NC 4.0).
In publishing with Ethnobiology Letters corresponding authors certify that they are authorized by their co-authors to enter into these arrangements. They warrant, on behalf of themselves and their co-authors, that the content is original, has not been formally published, is not under consideration, and does not infringe any existing copyright or any other third party rights. They further warrant that the material contains no matter that is scandalous, obscene, libelous, or otherwise contrary to the law.
Corresponding authors will be given an opportunity to read and correct edited proofs, but if they fail to return such corrections by the date set by the editors, production and publication may proceed without the authors' approval of the edited proofs.