Birdlime in Western Myanmar: Preparation, Use, and Conservation Implications for an Endemic Bird
Steven G. Platt

Wildlife Conservation Society, Myanmar Program

Kalyar Platt

Turtle Survival Alliance

Thet Zaw Naing

Wildlife Conservation Society, Myanmar Program

Hong Meng

Natma Taung National Park

Win Ko Ko

Wildlife Conservation Society, Myanmar Program

Naing Lin

Wildlife Conservation Society, Myanmar Program

Robert J. Tizzard

Wildlife Conservation Society, Myanmar Program

Khin Myo Myo

Wildlife Conservation Society, Myanmar Program

Me Me Soe

Turtle Survival Alliance

Thomas R. Rainwater

U.S. Fish and Wildlife Service, Charleston Field Office
Keywords:
Birdlime, Ficus, Natma Taung National Park, traditional hunting, white-browed nuthatch
Abstract
Birdlimes are adhesive entangling compounds that passively capture birds by binding them to a substrate and rendering flight feathers useless. We investigated birdlime use among indigenous Chin hunters during a wildlife survey of Natma Taung National Park (NTNP) in western Myanmar (May-June 2011). We found that birdlime is prepared from the sap of various banyan trees (Ficus spp.) collected during the annual dry season (December-May). Birdlime is prepared by boiling sap to remove water, and the finished product is a readily malleable and extremely adhesive compound known locally as nghet phan te kaw ("bird glue"). Hunters employ four principal strategies when using birdlime: 1) limed sticks are placed at waterholes and springs; 2) limed sticks are placed in fruiting trees or nocturnal roost sites; 3) limed sticks are positioned at prominent vantage points and hunters mimic vocalizations to attract birds; 4) small insects (possibly termites) are affixed to a limed pole and serve as bait to attract birds. Large numbers (>200) of birds can reportedly be captured during a single day by hunters using birdlime. At least 186 (63.9%) of 291 species of birds occurring in Natma Taung National Park are thought to be vulnerable to this non-selective hunting strategy. The endangered white-browed nuthatch (Sitta victoriae Rippon Sittidae), a poorly-studied endemic species restricted to high elevation Oak-Rhododendron forest in NTNP, is vulnerable to birdliming, although the impact of hunting on populations remains unclear. We recommend that future investigations determine the sustainability of the Chin bird harvest by relating hunter off-take to recruitment and survivorship of nuthatches. If conservation action is deemed prudent, management plans should be developed in close collaboration with local Chin communities.
References
Alves, R. R. N., E. E. G. Nogueira, H. F. P. Araujo, and A. E. Brooks. 2010. Bird-keeping in the Caatinga, NE Brazil. Human Ecology 38:147-156. Doi:10.1007/s10745-009-9295-5
Alves, R. R. N., M. B. R. Gonçalves, and W. L. S. Vieira. 2012. Caça use e Conservação de Vertebrados no Semiárido Brasileiro. Tropical Conservation Science 5:394-416.
Bourke, D. 1925. Monkey Trainers and Bird Catchers in Pattani, South Siam. Indian Forester 51:1-4.
Burton, R. W. 1918. Notes from the Oriental Sporting Magazine. New Series 1869-1879. Journal of the Bombay Natural History Society 25:491-493.
Carey, B. S. and H. N. Tuck. 1896. The Chin Hills: A History of Their People, Our Dealings with Them, Their Customs and Manners, and a Gazetteer of Their Country. Vol. 1. Government Printing Office, Rangoon, Burma.
Cartmill, A. 1993. A View to a Death in the Morning. Harvard University Press, Cambridge.
Diran, R. K. 2001. The Vanishing Tribes of Burma. Sterling Publishing, New York.
Fernandes-Ferreira, H., S. V. Medonça, C. Albano, F.S. Ferreira, and R. R. N. Alves. 2012. Hunting, use and conservation of birds in Northeast Brazil. Biodiversity and Conservation 21:221-244. Doi:10.1007/s10531-011-0179-9
Fitzwater, W. D. 1982. Bird Limes and Rat Glues – Sticky Situations. Proceedings 10th Vertebrate Pest Conference 10:17-20.
Gibson, W. H. 1881. Camp Life in the Woods and the Tricks of Trapping and Trap Making. Harper and Brothers, Publishing, New York.
Gilchrist, G., M. Mallory, and F. Merkel. 2005. Can Local Ecological Knowledge Contribute to Wildlife Management? Case Studies of Migratory Birds. Ecology and Society 10:20-31.
Hiscox, G. D. 1914. Henley's Twentieth Century Formulas, Recipes, and Processes. Norma W. Henley Publishing Company, New York.
Hutchinson, J. 1918. Cordia myxa and Allied Species. Bulletin of Miscellaneous Information (Royal Botanic Gardens, Kew) 7:217-222.
IUCN. 2012. IUCN Red List of Threatened Species. Version 2012.1. Available at: http://www.iucnredlist.org Accessed on June 29, 2012.
Kunwar, R. M., N. Adhikari, and M. P. Devkota. 2005. Indigenous Use of Mistletoes in Tropical and Temperate Regions of Nepal. Banko Janakari 15:38-42.
MacPherson, H. A. 1897. A History of Fowling. David Douglas, Edinburgh, Scotland.
Martin, G. J. 1995. Ethnobotany: A Methods Manual. Chapmen Hall, London.
Maynahan, B. 2009. Jungle Soldier: the True Story of Freddy Spencer Chapman. Quercus Press, London.
McCulloch, M. N., G. M. Tucker, and S. R. Ballie. 1992. The Hunting of Migratory Birds in Europe: A Ringing Recovery Analysis. Ibis 134(supplement):55-65.
McClure, H. E. 1956. Methods of Bird Netting in Japan Applicable to Wildlife Management Problems. Bird-banding 27:67-73.
Milner-Gulland, E. J., E. L. Bennett, and SCB 2002 Annual Meeting Wild Meat Group. 2003. Wild Meat: The Bigger Picture. Trends in Ecology and Evolution 18:351-357. Doi:10.1016/S0169-5347(03)00123-X
Peh, K. S. H. 2007. Potential Effects of Climate Change on Elevational Distribution of Tropical Birds in Southeast Asia. Condor 109:437-441.
Platt, S. G., Win Ko Ko, Kalyar Platt, Khin Myo Myo, Me Me Soe and T. R. Rainwater. 2012. Species Inventory and Conservation Status of Chelonians in Natma Taung, National Park, Myanmar. Hamadryad (In press).
Rao, M., Than Zaw, Saw Htun, and Than Myint. 2011. Hunting for a Living: Wildlife Trade, Rural Livelihoods, and Declining Wildlife in Hkakaborazi National Park, North Myanmar. Environmental Management 48:158:167. Doi:10-1007/s00267-011-9662-z.
Reidinger, R. F., Jr., and J. L. Libay. 1979. Perches Coated with Glue Reduce Bird Damage in Rice Field Plots. Proceedings 8th Bird Control Seminar, Bowling Green State University 8:201-204.
Saul, J. D. 2005. The Naga of Burma: Their Festivals, Customs and Way of Life. Orchid Press, Bangkok, Thailand.
Sayer, J. A. 1983. A Survey of Natma Taung (Mount Victoria), Southern Chin Hills. Field Report 20, FO: BUR/80/006. Report to Food and Agriculture Organization of the United Nations, Rangoon.
Shaffer, B. S. 1996. Prehistoric Small Game Snare Trap Technology, Deployment Strategy, and Trapper Gender Depicted in Mimbres Pottery. Journal of Ethnobiology 16:145-155.
Thet Zaw Naing. 2003. Ecology of the White-browed Nuthatch Sitta victoriae in Natmataung National Park, Myanmar, With Notes on Other Significant Species. Forktail 19:57-62.
van Vliet, N., E. Kaniowska, M. Bourgarel, C. Fargeot, and R. Nasi. 2009. Answering the Call! Adapting a Traditional Hunting Practice to Monitor Duiker Populations. African Journal of Ecology 47:393-399.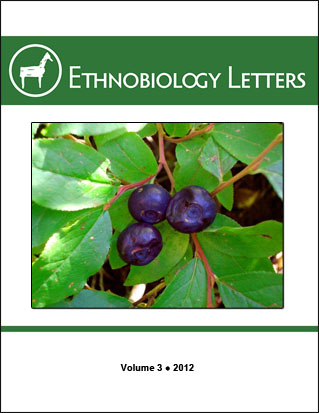 How to Cite
Platt, S. G., Platt, K., Naing, T. Z., Meng, H., Ko, W. K., Lin, N., Tizzard, R. J., Myo, K. M., Soe, M. M., & Rainwater, T. R. (2012). Birdlime in Western Myanmar: Preparation, Use, and Conservation Implications for an Endemic Bird. Ethnobiology Letters, 3, 68-75. https://doi.org/10.14237/ebl.3.2012.38
Section
Research Communications
Copyright (c) 2012 Ethnobiology Letters
This work is licensed under a Creative Commons Attribution-NonCommercial 4.0 International License.
Authors who publish with this journal agree to the following terms:
Authors retain ownership of the copyright for their content and grant Ethnobiology Letters (the "Journal") and the Society of Ethnobiology right of first publication. Authors and the Journal agree that Ethnobiology Letters will publish the article under the terms of the Creative Commons Attribution-NonCommercial 4.0 International Public License (CC BY-NC 4.0), which permits others to use, distribute, and reproduce the work non-commercially, provided the work's authorship and initial publication in this journal are properly cited.
Authors are able to enter into separate, additional contractual arrangements for the non-exclusive distribution of the journal's published version of the work (e.g., post it to an institutional repository or publish it in a book), with an acknowledgement of its initial publication in this journal.
For any reuse or redistribution of a work, users must make clear the terms of the Creative Commons Attribution-NonCommercial 4.0 International Public License (CC BY-NC 4.0).
In publishing with Ethnobiology Letters corresponding authors certify that they are authorized by their co-authors to enter into these arrangements. They warrant, on behalf of themselves and their co-authors, that the content is original, has not been formally published, is not under consideration, and does not infringe any existing copyright or any other third party rights. They further warrant that the material contains no matter that is scandalous, obscene, libelous, or otherwise contrary to the law.
Corresponding authors will be given an opportunity to read and correct edited proofs, but if they fail to return such corrections by the date set by the editors, production and publication may proceed without the authors' approval of the edited proofs.