Data Collection in Zooarchaeology: Incorporating Touch-Screen, Speech-Recognition, Barcodes, and GIS
W. Flint Dibble

Department of Classics, University of Cincinnati, PO Box 210226, Cincinnati, OH 45221-0226.
Keywords:
Zooarchaeology, Digital archaeology, Archaeological database, Touch-screen, Database, GIS, Barcodes
Abstract
When recording observations on specimens, zooarchaeologists typically use a pen and paper or a keyboard. However, the use of awkward terms and identification codes when recording thousands of specimens makes such data entry prone to human transcription errors. Improving the quantity and quality of the zooarchaeological data we collect can lead to more robust results and new research avenues. This paper presents design tools for building a customized zooarchaeological database that leverages accessible and affordable 21st century technologies. Scholars interested in investing time in designing a custom-database in common software (here, Microsoft Access) can take advantage of the affordable touch-screen, speech-recognition, and geographic information system (GIS) technologies described here. The efficiency that these approaches offer a research project far exceeds the time commitment a scholar must invest to deploy them.
References
Dibble, W. F. 2014. Urban Butchery Patterns from the Athenian Agora and Azoria in Greece. Paper presented at the 12th International Conference of Archaeozoology: San Rafael, Argentina.
Dibble, W. F. and H. L. Dibble. 2014. Barcoding Archaeology: Digital Methods for Error-Free and Rapid Labeling, Data-Entry, and Inventorying. Poster Presented at the 115th Annual Meeting of the Archaeological Institute of America. Chicago, IL.
Dibble, H. L., C. W. Marean, and S. P. McPherron. 2007. On the Use of Barcodes in Excavation Projects with Examples from Mossel Bay (South Africa) and Roc de Marsal (France). The SAA Archaeological Record 7:33-38.
Driver, J. C. 1992. Identification, Classification, and Zooarchaeology. Circaea 9:35-47.
Dobney, K. and K. Rielly. 1988. A Method for Recording Archaeological Animal Bones: The Use of Diagnostic Zones. Circaea 5:79-96.
Gifford, D. P. and D. C. Crader. 1977. A Computer Coding System for Archaeological Faunal Remains. American Antiquity 42:225-238.
Halstead, P. 2014. The Faunal Remains. In Nemea Valley Archaeological Project, Volume 1: Early Bronze Age Village on Tsoungiza Hill, edited by D. J. Pullen, pp. 741-804. The American School of Classical Studies at Athens, Princeton.
Jones, E. L. and D. A. Hurley. 2011. Relational Databases and Zooarchaeology Education. The SAA Archaeological Record 11:19-21.
Kansa, E. C. and S. W. Kansa. 2013. We All Know That a 14 is a Sheep: Data Publication and Professionalism in Archaeological Communication. Journal of Eastern Mediterranean Archaeology and Heritage Studies 1:88-97.
Kansa, S. W. and E. C. Kansa. 2014. Data Publishing and Archaeology's Information Ecosystem. Near Eastern Archaeology 77:223-227.
McPherron, S. P. and H. L. Dibble. 2002. Using Computers in Archaeology: A Practical Guide. New York: McGraw Hill.
Orton, D. C. 2010. A New Tool for Zooarchaeological Analysis: ArcGIS Skeletal Templates for Some Common Mammalian Species. Internet Archaeology 28. Doi:10.11141/ia.28.4.
Panko, R. R. 2008a. What We Know About Spreadsheet Errors. Journal of End User Computing 10: 15-21. Available at: http://panko.shidler.hawaii.edu/My%20Publications/Whatknow.htm. Accessed on February 2, 2015.
Panko, R. R. 2008b. The Human Error Website. Honolulu, HI: University of Hawaii: Available at: http://panko.shidler.hawaii.edu/HumanErr/Index.htm. Accessed on February 2nd, 2015.
Popkin, P. 2005. Caprine Butchery and Bone Modification Templates: A Step Towards Standardisation. Internet Archaeology 17. Doi:10.11141/ia.17.2.
Wallrodt, J. 2015. Paperless Archaeology. Available at paperlessarchaeology.com Accessed on August 25, 2015.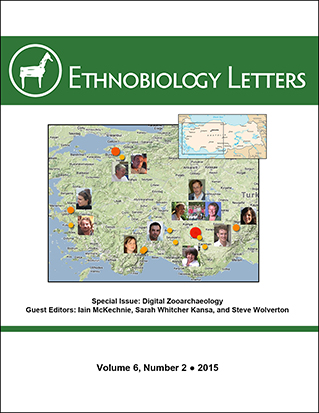 How to Cite
Dibble, W. F. (2015). Data Collection in Zooarchaeology: Incorporating Touch-Screen, Speech-Recognition, Barcodes, and GIS. Ethnobiology Letters, 6(2), 249-257. https://doi.org/10.14237/ebl.6.2.2015.393
Section
Data, Methods & Taxonomies
Copyright (c) 2015 Ethnobiology Letters
This work is licensed under a Creative Commons Attribution-NonCommercial 4.0 International License.
Authors who publish with this journal agree to the following terms:
Authors retain ownership of the copyright for their content and grant Ethnobiology Letters (the "Journal") and the Society of Ethnobiology right of first publication. Authors and the Journal agree that Ethnobiology Letters will publish the article under the terms of the Creative Commons Attribution-NonCommercial 4.0 International Public License (CC BY-NC 4.0), which permits others to use, distribute, and reproduce the work non-commercially, provided the work's authorship and initial publication in this journal are properly cited.
Authors are able to enter into separate, additional contractual arrangements for the non-exclusive distribution of the journal's published version of the work (e.g., post it to an institutional repository or publish it in a book), with an acknowledgement of its initial publication in this journal.
For any reuse or redistribution of a work, users must make clear the terms of the Creative Commons Attribution-NonCommercial 4.0 International Public License (CC BY-NC 4.0).
In publishing with Ethnobiology Letters corresponding authors certify that they are authorized by their co-authors to enter into these arrangements. They warrant, on behalf of themselves and their co-authors, that the content is original, has not been formally published, is not under consideration, and does not infringe any existing copyright or any other third party rights. They further warrant that the material contains no matter that is scandalous, obscene, libelous, or otherwise contrary to the law.
Corresponding authors will be given an opportunity to read and correct edited proofs, but if they fail to return such corrections by the date set by the editors, production and publication may proceed without the authors' approval of the edited proofs.