The Importance of Insects in Australian Aboriginal Society: A Dictionary Survey
Aung Si

School of Languages and Linguistics, University of Melbourne.

Myfany Turpin

Sydney Conservatorium of Music, The University of Sydney.
Keywords:
Edible insects, Australian Aboriginal languages, Ethnoentomology, Honeybee, Moth larva, Beetle larva
Abstract
Insects and their products have long been used in Indigenous Australian societies as food, medicine and construction material, and given prominent roles in myths, traditional songs and ceremonies. However, much of the available information on the uses of insects in Australia remains anecdotal. In this essay, we review published dictionaries of Aboriginal languages spoken in many parts of Australia, to provide an overview of the Indigenous names and knowledge of insects and their products. We find that that native honeybees and insect larvae (particularly of Lepidoptera and Coleoptera) are the most highly prized insects, and should be recognized as cultural keystone species. Many insects mentioned in dictionaries lack scientific identifications, however, and we urge documentary linguists to address this important issue.
References
Butler, J. R. A., A. Tawake, T. Skewes, L. Tawake and V. McGrath. 2012. Integrating Traditional Ecological Knowledge and Fisheries Management in the Torres Strait, Australia: The Catalytic Role of Turtles and Dugong as Cultural Keystone Species. Ecology and Society 17(4):34-52.
Breen, G. 2000. Introductory dictionary of Western Arrernte. IAD Press, Alice Springs, Northern Territory.
Dixon, R.M.W. 1991. Words of our Country. University of Queensland Press, Brisbane.
Dobson, V. P. 2007. Arelhe-Kenhe Merrethene: Arrernte Traditional Healing. Alice Springs, Northern Territory, IAD Press.
Elliott, C. 1991. 'Mewal is Merri's Name': Form and Ambiguity in Marrangu Cosmology, North Central Arnhem Land. Unpublished MA Thesis, Faculty of Arts, Australian National University.
Evans, N., F. Merlan and M. Tukumba. 2004. A First Dictionary of Dalabon (Ngalkbon). Maningrida Arts and Culture, Maningrida.
Flood, J. 1980. The Moth Hunters: Aboriginal Prehistory of the Australian Alps. Australian Institute of Aboriginal Studies, Canberra.
Garde, M. n.d. Bininj Gunwok Pan-dialectal Dictionary. Unpublished electronic file.
Garibaldi, A. and N. Turner. 2004. Cultural Keystone Species: Implications for Ecological Conservation and Restoration. Ecology and Society 9(3): 1. Available at: http://www.ecologyandsociety.org/vol9/iss3/art1/. Accessed on January 04, 2015.
Gibson, J. 2013. Addressing the Arrernte: FJ Gillen's 1896 Engwura speech. Australian Aboriginal Studies 1:57–72.
Green, Jenny. 2010. Central and Eastern Anmatyerr to English dictionary. Alice Springs: Institute for Aboriginal Development Press.
Green, R., G. McKay, C. Coleman and G. Wightman. 2007. Draft Ndjébbana Dictionary, compiled by Rebecca Green with linguistic contributions from Graham McKay and Carolyn Coleman, and scientific contributions from Glenn Wightman. NT Department of Education, unpublished.
Heath, J. 1981. Nunggubuyu Dictionary. Australian Institute of Aboriginal Studies, Canberra, Australian Capital Territory.
Hercus, L. 1989. Preparing Grass Witchetty Grubs. Records of the South Australian Museum 23:51–57.
Hercus, L. 1992. Glimpses of the Karangura. Records of the South Australian Museum 25(2):139–159.
Moyle, R. 1986. Alyawarra Music. Songs and Society in a Central Australian Community. Australian Institute of Aboriginal Studies, Canberra.
Mulvaney, J., H. Morphy and A. Petch, eds. 1997. My Dear Spencer: The Letters of F.J. Gillen to Baldwin Spencer. Hyland House, Melbourne, Victoria.
Prober, S., M. O'Connor and F. Walsh. 2011. Australian Aboriginal Peoples' Seasonal Knowledge: A Potential Basis for Shared Understanding in Environmental Management. Ecology and Society 16(2):12-27.
Saulwick, A. 2003. Rembarrnga Dictionary. Maningrida Arts and Culture, Maningrida, Northern Territory.
Strehlow, T. G. H. 1971. Songs of Central Australia. Angus and Robertson, Sydney, New South Wales.
Tindale, N. B. 1953. On some Australian Cossidae Including the Moth of the Witjuti (Witchetty) Grub. Transactions of the Royal Society of South Australia 76:56–65.
Tindale, N. B. 1966. Insects as Food for the Australian Aborigines. Australian Natural History 15:179–183.
Turpin, M. 2013. Semantic Extension in Kaytetye Flora and Fauna Terms. Austraian Journal of Linguistics 33 (4), 488–518.
Turpin, M., V. P. Dobson, M. K. Turner and A. N. Ross. 2013. The Spotted Nightjar Calls when Dingo Pups are Born: Ecological and Social Indicators in Central Australia. Journal of Ethnobiology 33(1): 7-32.
Turpin, M. and J. Green. 2014. 'If You Go Down to the Soak Today...' an Arandic children's game. Anthropological Linguistics 55(4):358–394.
Turpin, M. and A. Ross. 2012. Kaytetye to English Dictionary. IAD Press, Alice Springs, Northern Territory.
Van Huis, A, 1996. The traditional use of arthropods in sub-Saharan Africa. Proc. Exper. & Applic. Entomol., N.E.V. Amsterdam, 7: 3-20.
Van Huis, A., K. van Itterbeeck, H. Klunder, E. Mertens, A. Halloran, G. Muir and P. Vantomme. 2013. Edible Insects: Future Prospects for Food and Feed Security. Food and Agricultural Orginization of the United Nations, Rome.
Yen, A. 2005. Insects and Other Invertebrate Foods of the Australian Aborigines. In Ecological Implications of Minilivestock: Potential of Insects, Rodents, Frogs and Snails, edited by M. G. Paoletti, pp. 367–388. Science Publishers, New Hampshire.
Yen, A. 2010. Edible Insects and Other Invertebrates in Australia: Future Prospects. In Forest Insects as Food: Humans Bite Back, Proceedings of a Workshop on Asia-Pacific Resources and their Potential for Development, edited by P. B. Durst, D. V. Johnson, R. L. Leslie and K. Shono, pp. 65–84. FAO Regional Office for Asia and the Pacific, Bangkok.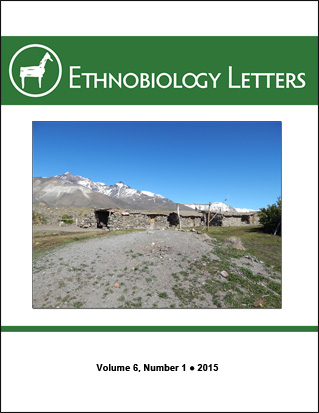 How to Cite
Si, A., & Turpin, M. (2015). The Importance of Insects in Australian Aboriginal Society: A Dictionary Survey. Ethnobiology Letters, 6(1), 175-182. https://doi.org/10.14237/ebl.6.1.2015.399
Copyright (c) 2015 Ethnobiology Letters
This work is licensed under a Creative Commons Attribution-NonCommercial 4.0 International License.
Authors who publish with this journal agree to the following terms:
Authors retain ownership of the copyright for their content and grant Ethnobiology Letters (the "Journal") and the Society of Ethnobiology right of first publication. Authors and the Journal agree that Ethnobiology Letters will publish the article under the terms of the Creative Commons Attribution-NonCommercial 4.0 International Public License (CC BY-NC 4.0), which permits others to use, distribute, and reproduce the work non-commercially, provided the work's authorship and initial publication in this journal are properly cited.
Authors are able to enter into separate, additional contractual arrangements for the non-exclusive distribution of the journal's published version of the work (e.g., post it to an institutional repository or publish it in a book), with an acknowledgement of its initial publication in this journal.
For any reuse or redistribution of a work, users must make clear the terms of the Creative Commons Attribution-NonCommercial 4.0 International Public License (CC BY-NC 4.0).
In publishing with Ethnobiology Letters corresponding authors certify that they are authorized by their co-authors to enter into these arrangements. They warrant, on behalf of themselves and their co-authors, that the content is original, has not been formally published, is not under consideration, and does not infringe any existing copyright or any other third party rights. They further warrant that the material contains no matter that is scandalous, obscene, libelous, or otherwise contrary to the law.
Corresponding authors will be given an opportunity to read and correct edited proofs, but if they fail to return such corrections by the date set by the editors, production and publication may proceed without the authors' approval of the edited proofs.