When Is a Fish Not a Fish? Questions Raised by a Nage Life-Form Category
Gregory Forth

University of Alberta Edmonton
Keywords:
life-forms, fish, marine fish, freshwater fish, Nage, folk taxonomy
Abstract
Speakers of a Central-Malayo-Polynesian language, the Nage inhabit the central region of the eastern Indonesian island of Flores. Their folk taxonomy of animals (ana wa) contains three named life-form taxa, one of which is ika, fish. A review of component folk-generic taxa, however, reveals that Nage do not classify five kinds of freshwater fish as 'fish' (ika), even though they further apply ika to various marine fish (including sharks and rays) as well as to marine mammals. The article considers this peculiarity of Nage folk zoological taxonomy, and how it might affect an understanding of ika as denoting a 'fish' life-form taxon. The main conclusion is that the five excluded categories—distinguished largely on morphological and behavioural grounds, and  conveniently designated as the 'tebhu cluster', after one of their members—are contrasted primarily with freshwater species which Nage do classify as 'fish' (ika). Specified by name as ika lowo ('river fish'), these are further contrasted with another named folk-intermediate taxon of 'marine fish' (ika mesi). From this, it is argued that, as a life-form category, ika should be understood as implicitly including the five members of the 'tebhu cluster' as a third, albeit covert, folk-intermediate taxon.
References
Arndt, P. 1961. Wörterbuch der Ngadhasprache. Studia Instituti Anthropos, 15. Anthropos-Institut, Posieux, Fribourg, Suisse.
Atran, S. 1983. Covert Fragmenta and the Origin of the Biological Family. Man 18:51-71.
Berlin, B. 1992. Ethnobiological Classification: Principles of Categorization of Plants and Animals in Traditional Societies. Princeton University Press, Princeton, NJ.
Berlin, B. and P. Kay. 1969. Basic Color Terms: Their Universality and Evolution. University of California Press, Berkeley.
Blust, R. 2002. The History of Faunal Terms in Austronesian Languages. Oceanic Linguistics 41:89-139.
Brown, C. H. 1974. Unique Beginners and Covert Categories in Folk Biological Taxonomies. American Anthropologist 76:325-27.
Brown, C.H. 1984. Language and Living Things: Uniformities in Folk Classification and Naming. Rutgers University Press, New Brunswick, NJ.
Forth, G.. n.d. Nage Lizard Classification: Free-Listing and Other Evidence for a Covert Life-Form. To appear in Anthropological Linguistics.
Monk, K., Y. de Fretes, and G.Reksodiharjo-Lilley. 1997. The Ecology of Nusa Tenggara and Maluku. Periplus Editions, Hong Kong.
Stevens, A. M. and A. Ed. Schmidgall-Tellings. 2004. A Comprehensive Indonesian-English Dictionary. Ohio University Press, Columbus.
Zorc, R. D. P. 1994. Austronesian Culture History through Reconstructed Vocabulary (an Overview). In Austronesian Terminologies: Continuity and Change (Pacific Linguistics Series C-127), edited by A.K. Pawley and M.D. Ross, pp. 541-594. Department of Linguistics, Research School of Pacific and Asian Studies, The Australian National University, Canberra.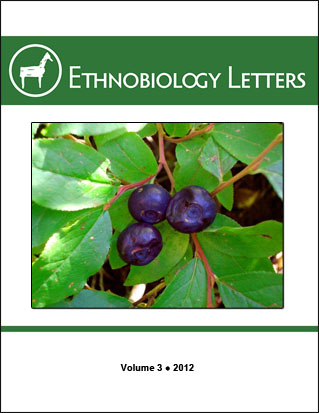 How to Cite
Forth, G. (2012). When Is a Fish Not a Fish? Questions Raised by a Nage Life-Form Category. Ethnobiology Letters, 3, 23-30. https://doi.org/10.14237/ebl.3.2012.41
Section
Research Communications
Copyright (c) 2012 Ethnobiology Letters
This work is licensed under a Creative Commons Attribution-NonCommercial 4.0 International License.
Authors who publish with this journal agree to the following terms:
Authors retain ownership of the copyright for their content and grant Ethnobiology Letters (the "Journal") and the Society of Ethnobiology right of first publication. Authors and the Journal agree that Ethnobiology Letters will publish the article under the terms of the Creative Commons Attribution-NonCommercial 4.0 International Public License (CC BY-NC 4.0), which permits others to use, distribute, and reproduce the work non-commercially, provided the work's authorship and initial publication in this journal are properly cited.
Authors are able to enter into separate, additional contractual arrangements for the non-exclusive distribution of the journal's published version of the work (e.g., post it to an institutional repository or publish it in a book), with an acknowledgement of its initial publication in this journal.
For any reuse or redistribution of a work, users must make clear the terms of the Creative Commons Attribution-NonCommercial 4.0 International Public License (CC BY-NC 4.0).
In publishing with Ethnobiology Letters corresponding authors certify that they are authorized by their co-authors to enter into these arrangements. They warrant, on behalf of themselves and their co-authors, that the content is original, has not been formally published, is not under consideration, and does not infringe any existing copyright or any other third party rights. They further warrant that the material contains no matter that is scandalous, obscene, libelous, or otherwise contrary to the law.
Corresponding authors will be given an opportunity to read and correct edited proofs, but if they fail to return such corrections by the date set by the editors, production and publication may proceed without the authors' approval of the edited proofs.