Defoliator Pest to Caboclos and Gourmet Food to the Suruí Indians: Contrasting Amazonian Perspectives of Lusura sp. Caterpillars
Carlos E. A. Coimbra

Escola Nacional de Saúde Pública, Fundação Oswaldo Cruz
Keywords:
Amazonia, Indigenous peoples, Brazil nut tree, Insects as food, Ethnoentomology
Abstract
The use of a Lusura sp. (Lepidoptera: Notodontidae) caterpillar as food by the Suruí Indians from the southwestern Brazilian Amazon is reported in the context of family collecting excursions during arboreal infestations observed in July-August 1983. This caterpillar erupts in very large numbers on Brazil nut trees, denuding them of foliage. The paper calls attention to contrasting views about these caterpillar infestations among different inhabitants of the forest, being considered a desirable food delicacy by the Suruí and a destructive pest defoliator by caboclos.    
References
Alves, R. R. N., K. S. Vieira, G. G. Santana, W. L. S. Vieira, W. O. Almeida, W. M. S. Souto, P. F. G. P. Montenegro and J. C. B. Pezzuti. 2011. A Review on Human Attitudes Towards Reptiles in Brazil. Environmental Monitoring and Assessment E-pub ahead of print:1-25.
Araujo, Y. and P. Beserra. 2007. Diversidad de Invertebrados Consumidos por las Etnias Yanomami y Yekuana del Alto Orinoco, Venezuela. Interciencia 32:318-323.
Coimbra Jr., C. E. A. 1984. Estudos de Ecologia Humana entre os Suruí do Parque Indígena Aripuanã, Rondônia. O Uso de Larvas de Coleópteros (Bruchidae e Curculionidae) na Alimentação. Revista Brasileira de Zoologia 2:35-47.
Coimbra Jr., C. E. A. 1985. Estudos de Ecologia Humana entre os Suruí do Parque Indígena Aripuanã, Rondônia. Aspectos Alimentares. Boletim do Museu Paraense Emílio Goeldi (Antropologia) 2:57-87.
Coimbra Jr., C. E. A. and R. V. Santos. 1993. Bicudo das Palmáceas: Praga ou Alimento? Ciência Hoje 16:59-60.
Costa-Neto, E. and J. Ramos-Elorduy. 2006. Los Insectos Comestibles de Brasil: Etnicidad, Diversidad e Importancia en la Alimentación. Boletín de la Sociedad Entomológica Aragonesa 38:423-442.
Dufour, D. L. 1987. Insects as Food: A Case Study from the Northwest Amazon. American Anthropologist 89:383-397.
Haugaasen, T. 2009. A Lepidopteran Defoliator Attack on Brazil Nut Trees (Bertholletia excelsa) in Central Amazonia, Brazil. Biotropica 41:275-278.
Hurtado, G. B. 2010. Plagas en la Producción de la Castaña (Bertholletia excelsa H.B.K.) en la Amazonia Boliviana. Instituto Boliviano de Tecnología Agropecuaria/ Fundación Para el Desarrollo de la Provincia Vaca Diez, Riberalta, Bolívia.
Paoletti, M. G. and D. L. Dufour. 2005. Edible Invertebrates among Amazonian Indians: A Critical Review of Disappearing Knowledge. In Ecological Implications of Minilivestock: Potential of Insects, Rodents, Frogs and Snails, edited by M. G. Paoletti, pp. 293-342. Science Publishers, Enfield, NH.
Santos, R. R. 2011. O Extrativismo de Castanha-do-Brasil, Bertholletia excelsa (Humbl. & Bompl.) no Rio Madeira, Rondônia: Bases para uma Gestão Ambiental Participativa. Unpublished Master's Thesis, Departamento de Hidrobiologia, Universidade Federal de São Carlos, São Carlos, Brasil.
Weller, S. J. 1992. Survey of Adult Morphology in Nystaleinae and Related Neotropical Subfamilies (Noctuoidea: Notodontidae). Journal of Research on the Lepidoptera 31:233-277.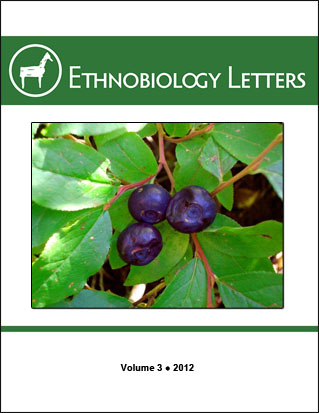 How to Cite
Coimbra, C. E. A. (2012). Defoliator Pest to Caboclos and Gourmet Food to the Suruí Indians: Contrasting Amazonian Perspectives of Lusura sp. Caterpillars. Ethnobiology Letters, 3, 56-60. https://doi.org/10.14237/ebl.3.2012.43
Copyright (c) 2012 Ethnobiology Letters
This work is licensed under a Creative Commons Attribution-NonCommercial 4.0 International License.
Authors who publish with this journal agree to the following terms:
Authors retain ownership of the copyright for their content and grant Ethnobiology Letters (the "Journal") and the Society of Ethnobiology right of first publication. Authors and the Journal agree that Ethnobiology Letters will publish the article under the terms of the Creative Commons Attribution-NonCommercial 4.0 International Public License (CC BY-NC 4.0), which permits others to use, distribute, and reproduce the work non-commercially, provided the work's authorship and initial publication in this journal are properly cited.
Authors are able to enter into separate, additional contractual arrangements for the non-exclusive distribution of the journal's published version of the work (e.g., post it to an institutional repository or publish it in a book), with an acknowledgement of its initial publication in this journal.
For any reuse or redistribution of a work, users must make clear the terms of the Creative Commons Attribution-NonCommercial 4.0 International Public License (CC BY-NC 4.0).
In publishing with Ethnobiology Letters corresponding authors certify that they are authorized by their co-authors to enter into these arrangements. They warrant, on behalf of themselves and their co-authors, that the content is original, has not been formally published, is not under consideration, and does not infringe any existing copyright or any other third party rights. They further warrant that the material contains no matter that is scandalous, obscene, libelous, or otherwise contrary to the law.
Corresponding authors will be given an opportunity to read and correct edited proofs, but if they fail to return such corrections by the date set by the editors, production and publication may proceed without the authors' approval of the edited proofs.