When the Killing's Done
Torben C. Rick

Program in Human Ecology and Archaeobiology, Department of Anthropology, National Museum of Natural History, Smithsonian Institution
Abstract
Review of When the Killing's Done. T. Coreghessan Boyle. 2011. Viking Press, New York, NY. Pp. 384. ISBN10: 0143120395. ISBN13: 978‐0143120391
References
Erlandson, J. M. and T. C. Rick. 2010. Archaeology Meets Marine Ecology: The Antiquity of Maritime Cultures and Human Impacts on Marine Fisheries and Ecosystems. Annual Review of Marine Science 2:231-251.
Jackson, J. B. C., K. A. Alexander and E. Sala, eds. 2011. Shifting Baselines: The Past and the Future of Ocean Fisheries. Island Press, New York, NY.
Lepofsky, D. 2009. The Past, Present, and Future of Traditional Resource and Environmental Management. Journal of Ethnobiology 29:161-166.
Lyman, R. L. 2006. Paleozoology in the Service of Conservation Biology. Evolutionary Anthropology 15:11-19.
Schoenherr, A. A., R. C. Feldmath and M. J. Emerson. 1999. Natural History of the Islands of California. University of California Press, Berkeley, CA.
Wolverton, S., C. R. Randklev and A. Barker. 2011. Ethnobiology as a Bridge Between Science and Ethics: An Applied Paleozoological Perspective. In Ethnobiology, edited by E. N. Anderson, D. M. Pearsall, E. S. Hunn and N. J. Turner, pp. 115-132. Wiley-Blackwell, Hoboken, NJ.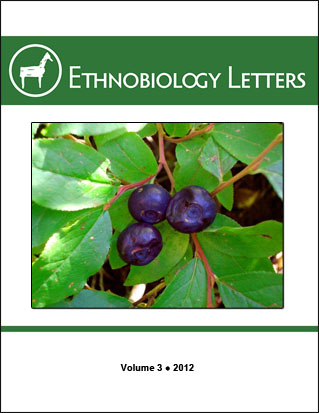 How to Cite
Rick, T. C. (2012). When the Killing's Done. Ethnobiology Letters, 3, 16-17. https://doi.org/10.14237/ebl.3.2012.50
Copyright (c) 2012 Ethnobiology Letters
This work is licensed under a Creative Commons Attribution-NonCommercial 4.0 International License.
Authors who publish with this journal agree to the following terms:
Authors retain ownership of the copyright for their content and grant Ethnobiology Letters (the "Journal") and the Society of Ethnobiology right of first publication. Authors and the Journal agree that Ethnobiology Letters will publish the article under the terms of the Creative Commons Attribution-NonCommercial 4.0 International Public License (CC BY-NC 4.0), which permits others to use, distribute, and reproduce the work non-commercially, provided the work's authorship and initial publication in this journal are properly cited.
Authors are able to enter into separate, additional contractual arrangements for the non-exclusive distribution of the journal's published version of the work (e.g., post it to an institutional repository or publish it in a book), with an acknowledgement of its initial publication in this journal.
For any reuse or redistribution of a work, users must make clear the terms of the Creative Commons Attribution-NonCommercial 4.0 International Public License (CC BY-NC 4.0).
In publishing with Ethnobiology Letters corresponding authors certify that they are authorized by their co-authors to enter into these arrangements. They warrant, on behalf of themselves and their co-authors, that the content is original, has not been formally published, is not under consideration, and does not infringe any existing copyright or any other third party rights. They further warrant that the material contains no matter that is scandalous, obscene, libelous, or otherwise contrary to the law.
Corresponding authors will be given an opportunity to read and correct edited proofs, but if they fail to return such corrections by the date set by the editors, production and publication may proceed without the authors' approval of the edited proofs.