Cactus Nurseries and Conservation in a Biosphere Reserve in Mexico
María T. Pulido

Universidad Autónoma del Estado de Hidalgo. Instituto de Ciencias Básicas e Ingenierías. Centro de Investigaciones Biológicas. Km 4.5 Carretera Pachuca-Tulancingo. Pachuca, Hidalgo, Código Postal 42184

Consuelo Cuevas-Cardona

Universidad Autónoma del Estado de Hidalgo. Instituto de Ciencias Básicas e Ingenierías. Centro de Investigaciones Biológicas. Km 4.5 Carretera Pachuca-Tulancingo. Pachuca, Hidalgo, Código Postal 42184
Keywords:
NTFP, Metztitlán Canyon, cacti, traditional wisdom, UMAs
Abstract
Documenting how socio-ecosystem conservation knowledge and practice arise and are modified are issues of ethnobiological interest. In the Barranca de Metztitlán Biosphere Reserve (RBBM), plant nurseries, some of which were created as Environmental Management Units (UMAs), have been established to grow and conserve cacti. This paper describes these nurseries, their role in cactus conservation, and the benefits and limitations for the people managing them. The nurseries have helped decrease illegal traffic in cacti and have enabled ex situ conservation of 22 cacti species. Cactus management has changed from extraction to cultivation, as a result of the knowledge and actions of multiple actors. The main limitation is marketing, a recurring problem for non-timber forest products (NTFP). Greater coordination among stakeholders is recommended, such as involvement by non-governmental organizations to improve their probability of success, as well as learning from the experience of other cactus UMAs. Improving the market for cacti is an issue that needs an immediate solution; otherwise conservation efforts could relapse.
References
Anta Fonseca, A., J. Carabias, A. Díaz de León, C. Illsley, C. López, D. Robinson, E. Escamilla, F. Edouard, F. Ramírez, L. Merino, M. Chauvet, O. Ramírez, P. Álvarez, R. Obregón, S. Madrid, S. Purata, S. Ávila. 2008. Consecuencias de las Políticas Públicas en el Uso de los Ecosistemas y la Biodiversidad. In Capital Natural de México, vol. III: Políticas públicas y perspectivas de sustentabilidad, pp. 214-218. CONABIO, México.
Berkes, F. 2003. Rethinking Community-Based Conservation. Conservation Biology 18:621-630.
Berkes, F. and N. J. Turner. 2006. Knowledge, Learning and the Evolution of Conservation Practice for Social-Ecological System Resilience. Human Ecology 34:479-478.
Boege, E. 2010. El Patrimonio Biocultural de los Pueblos Indígenas de México. Instituto Nacional de Antropología e Historia/ Comisión Nacional para el Desarrollo de los Pueblos Indígenas, México.
Bravo, H. 1978. Las Cactáceas de México, Vol. II. Universidad Nacional Autónoma de México, México.
Bowler, P. 2000. Historia Fontana de las Ciencias Ambientales. Fondo de Cultura Económica, México.
Campbell, L. M. and A. Vainio. 2003. Participatory Development and Community-Based Conservation: Opportunities Missed for Lessons Learned. Human Ecology 31:417-437.
CONANP. 2003. Programa de Manejo. Reserva de la Biosfera Barranca de Metztitlán. Comisión Nacional de Áreas Naturales Protegidas, México.
Coronel, M. and M. T. Pulido. 2011. ¿Es Posible Conservar y Usar a la Palma Brahea dulcis (Kunth) Mart. en el Estado de Hidalgo, México? In Manual de Herramientas Etnobotánicas Relativas a la Conservación y el Uso Sostenible de los Recursos Vegetales, edited by S. Lagos, O. L. Sanabria, P. Chacón, R. García, pp 103-110. Red Latinoamericana de Botánica. Chile.
Cuevas-Cardona, C., A. P. Martínez- Falcón and O. A. Molina-González. 2008. Los Científicos en la Creación de las Areas Naturales Protegidas del Estado de Hidalgo. In Estudios Biológicos en las Areas Naturales del Estado de Hidalgo, edited by G. Pulido Flores, A. L. López Escamilla and M. T. Pulido Silva, pp. 7–17. Universidad Autónoma del Estado de Hidalgo, Pachuca, México.
Funtowicz, S. and B. de Marchi. 2003. Ciencia Posnormal, Complejidad Reflexiva y Sustentabilidad. In La Complejidad Ambiental, edited by E. Leff, pp. 5–84. Siglo XXI Editores, México.
Leff, E. 2005. Ecología y Capital. Siglo XXI Editores, México.
Marshall, E., K. Schreckenberg, and A. C. Newton. 2006. Comercialización de Productos Forestales no Maderables, Factores que Influyen en el Exito. Conclusiones del Estudio de México y Bolivia e Implicancias Políticas para los Tomadores de Decisiones. Centro Mundial de Vigilancia de la Conservación del PNUMA, Cambridge, UK.
PROFEPA. 2013. Sistema de Solicitudes de Información (INFOMEX). Exp PFPA/5.3/12c.6/000176_13. Folio 1613100017613. Procuraduría Federal de Protección al Ambiente, Delegación Hidalgo.
Pulido, M. T., M. S. González, P. Hersch, C. Illsley, C. López and F. Ramírez. 2010. Productos Forestales no Maderables: Consideraciones Sobre su Dimensión Económica. In Sistemas Biocognitivos Tradicionales: Paradigmas en la Conservación Biológica y el Fortalecimiento Cultural, edited by A. Moreno, M.T. Pulido, R. Mariaca, R. Valadéz, P. Mejía Correa and T.V. Gutiérrez, pp. 214–218. Universidad Autónoma del Estado de Hidalgo, Asociación Etnobiológica Mexicana y Sociedad Latinoamericana de Etnobiología. México.
Rodríguez, G. and A. Bracamonte. 2008. Pertinencia de las ANP Como Política de Conservación y Mejoramiento de la Calidad de Vida. Análisis de Percepción en la Reserva de la Biosfera del Alto Golfo de California y Delta del Río Colorado. Estudios Sociales 16:41-72.
Robbins, C. S. 2003. Comercio Espinoso. Comercio y Conservación de Cactos en el Desierto Chihuahuense. TRAFFIC North America WWF, Washington D.C.
Robles de Benito, R. 2009. Las Unidades de Manejo para la Conservación de Vida Silvestre y el Corredor Biológico Mesoamericano, México. CONABIO, México, D.F.
Toledo, V. M. 2002. Biodiversidad y Pueblos Indios en México y Centroamérica. Biodiversitas 43:1–8.
Turner, N. J. and F. Berkes. 2006. Developing Resource Management and Conservation. Human Ecology 34:375-478.
UNESCO. 2013. Biosphere Reserves – Learning Sites for Sustainable Development. Available at: http://www.unesco.org/new/es/natural-sciences/environment/ecological-sciences/biospherereserves/. Accessed on January 10, 2013.
Vázquez, M., T. Terrazas, S. Arias. 2007. Morphology and Anatomy of the Cephalocereus Columna-Trajani Cephalium: Why Tilting. Plant Systematics and Evolution 265:87-99.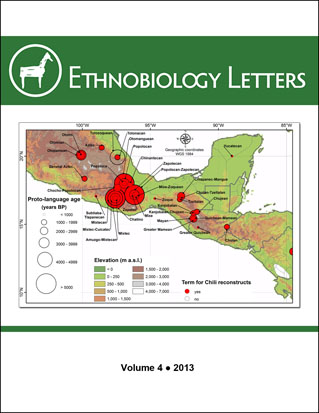 How to Cite
Pulido, M. T., & Cuevas-Cardona, C. (2013). Cactus Nurseries and Conservation in a Biosphere Reserve in Mexico. Ethnobiology Letters, 4, 96-104. https://doi.org/10.14237/ebl.4.2013.58
Section
Research Communications
Copyright (c) 2013 Ethnobiology Letters
This work is licensed under a Creative Commons Attribution-NonCommercial 4.0 International License.
Authors who publish with this journal agree to the following terms:
Authors retain ownership of the copyright for their content and grant Ethnobiology Letters (the "Journal") and the Society of Ethnobiology right of first publication. Authors and the Journal agree that Ethnobiology Letters will publish the article under the terms of the Creative Commons Attribution-NonCommercial 4.0 International Public License (CC BY-NC 4.0), which permits others to use, distribute, and reproduce the work non-commercially, provided the work's authorship and initial publication in this journal are properly cited.
Authors are able to enter into separate, additional contractual arrangements for the non-exclusive distribution of the journal's published version of the work (e.g., post it to an institutional repository or publish it in a book), with an acknowledgement of its initial publication in this journal.
For any reuse or redistribution of a work, users must make clear the terms of the Creative Commons Attribution-NonCommercial 4.0 International Public License (CC BY-NC 4.0).
In publishing with Ethnobiology Letters corresponding authors certify that they are authorized by their co-authors to enter into these arrangements. They warrant, on behalf of themselves and their co-authors, that the content is original, has not been formally published, is not under consideration, and does not infringe any existing copyright or any other third party rights. They further warrant that the material contains no matter that is scandalous, obscene, libelous, or otherwise contrary to the law.
Corresponding authors will be given an opportunity to read and correct edited proofs, but if they fail to return such corrections by the date set by the editors, production and publication may proceed without the authors' approval of the edited proofs.