Letting Wood Rot: A Case Study on Local Perceptions of Global Conservation Initiatives (Boumba, Niger)
Jocelyn Müller

Tufts University, Biology Department

Iro Dan Guimbo

Abdou Moumouni University
Keywords:
Community-based Conservation, Niger, Parks and People, West Africa
Abstract
Although there is a pressing need for conservation in Africa and a push for such actions to be directed by the community, there is still much conflict both in academia and on the ground regarding the success and methods of community-based conservation. Employing key-informant interviews, focus group discussions and participant observation, we look at how one community has perceived the conservation actions in their village, Boumba, Niger, and the neighbouring national park, Park-W. This study examines local perceptions of the goals, priorities and methods of conservation in Park-W and the Boumba region. We demonstrate that while participants expressed positive alignment with perceived conservation goals, they did not agree with conservation priorities and felt strongly against the methods.  Reframing conservation discourse in the terms of sustainable-use or adaptive management may serve to help translate much of the conservation ethic to local realities. We argue that for local conservation to be culturally sustainable, programmers of conservation must engage the community on their own terms, and recognize the value of local perceptions.
References
Adams, Jonathan and Thomas O. McShane. 1992. The Myth of Wild Africa: Conservation without Illusion. WW Norton & Company, New York.
Bauer, Hans. 200. Local Perceptions of Waza National Park, Northern Cameroon. Environmental Conservation 30:175-181.
Berkes, Fikret. 2004. Rethinking Community-Based Conservation. Conservation Biology 18:621-630.
Berkes, Fikret, Carl Folke, and Johan Colding. 1998. Linking Social and Ecological Systems: Management Practices and Social Mechanisms for Building Resilience. Cambridge University Press, New York.
Boulet, H., C. Vermeulen, A.S. Aladji-Boni, I. Niandou, A. El-Hadj, K. Konate, C. Paolini, O. Novelli, and D. Dulieu. 2004. Regional Strategy for the Management of Hunting Activities around the W Park (Benin, Burkina Faso, Niger). Game & Wildlife Science 21:663-673.
Brett, E.A. 2003. Participation and Accountability in Development Management. The Journal of Development Studies 40:1-29.
Brody, Michael, and Warren Tomkiewicz. 2002. Park Visitors' Understandings, Values and Beliefs Related to Their Experience at Midway Geyser Basin, Yellowstone National Park, USA. International Journal of Science Education 24:1119-1141.
Bruner, Aaron G., Raymond E. Gullison, Richard E. Rice, and Gustavo A.B. Da Fonseca. 2001. Effectiveness of Parks in Protecting Tropical Biodiversity. Science 291:125-128.
Darkoh, M.B. Kwesi, and Apollo Rwomire, eds. 2003. Human Impact on Environment and Sustainable Development in Africa. Ashgate, Burlington, Vt.
Dean, W.R., S. J. Milton, and F. Jeltsch. 1999. Large Trees, Fertile Islands, and Birds in Arid Savanna. Journal of Arid Environments 41:61-78.
du Toit, Johan T., Brian H. Walker, and Bruce M. Campbell. 2004. Conserving Tropical Nature: Current Challenges for Ecologists. Trends in Ecology & Evolution 19:12-17.
Fairhead, James and Melissa Leach. 1994. Contested Forests: Modern Conservation and Historical Land Use in Guinea's Ziama Reserve. African Affairs 93:481-512.
Fairhead, James and Melissa Leach. 1996. Misreading the African Landscape:Society and Ecology in a Forest-Savanna Mosaic. Cambridge University Press, Cambridge.
Gadd, Michelle E. 2005. Conservation Outside of Parks: Attitudes of Local People in Laikipia, Kenya. Environmental Conservation 32:50-63.
Gibson, Clark C. 2001. Politicians and Poachers. Africa 71:723-724.
Gibson, Clark C. and Stuart A. Marks. 1995. Transforming Rural Hunters into Conservationists: An Assessment of Community-Based Wildlife Management Programs in Africa. World Development 23:941-957.
Goldman, Mara. 2003. Partitioned Nature, Privileged Knowledge: Community-Based Conservation in Tanzania. Development and Change 34:833-862.
Groom, Martha J., C. Ronald Carroll, and Gary K. Meffe. 2006. Principles of Conservation Biology. Sinauer Associates, Sunderland, MA.
Hayes, Tanya M. 2006. Parks, People, and Forest Protection: An Institutional Assessment of the Effectiveness of Protected Areas. World Development 34:2064-2075.
Hayward, Chris, Lyn Simpson, and Leanne Wood. 2004. Still Left Out in the Cold: Problematising Participatory Research and Development. Sociologia Ruralis 44:95-108.
Hickey, Sam and Giles Mohan. 2005. Relocating Participation within a Radical Politics of Development. Development and Change 36:237-262.
Hjerpe, Evan E. and Yeon-Su Kim. 2007. Regional Economic Impacts of Grand Canyon River Runners. Journal of Environmental Management 85:137-149.
Holmes, Christopher M. 2003. The Influence of Protected Area Outreach on Conservation Attitudes and Resource Use Patterns: A Case Study from Western Tanzania. Oryx 37:305-315.
Hughes, Lotte. 2007. Rough Time in Paradise: Claims, Blames and Memory Making Around Some Protected Areas in Kenya. Conservation and Society 5:307.
Hulme, David and Marshall Murphree. 1999. Communities, Wildlife and the "New Conservation" in Africa. Journal of International Development 11:277-285.
Kaimowitz, D. and D. Sheil. 2007. Conserving What and for Whom? Why Conservation Should Help Meet Basic Human Needs in the Tropics. Biotropica 39:567-574.
Kesby, Mike. 2005. Retheorizing Empowerment-through-Participation as a Performance in Space: Beyond Tyranny to Transformation. Signs 30:2037-2065.
Kideghesho, Jafari R., Eivin Røskaft, and Bjørn P. Kaltenborn. 2007. Factors Influencing Conservation Attitudes of Local People in Western Serengeti, Tanzania. Biodiversity and Conservation 16:2213-2230.
Laris, Paul and David Andrew Wardell. 2006. Good, Bad or 'Necessary Evil'? Reinterpreting the Colonial Burning Experiments in the Savanna Landscapes of West Africa. Geographical Journal 172:271-290.
Le, Yen, Eleonora Papadogiannaki, Nancy Holmes, and Steven J. Hollenhorst. 2008. Yosemite National Park Visitor Study. University of Idaho, Park Studies Unit, Moscow.
Leach, Melissa and James Fairhead. 2000. Challenging Neo-Malthusian Deforestation Analyses in West Africa's Dynamic Forest Landscapes. Population and Development Review 26:17-43.
Ndaskoi, Navaya ole. 2003. Tanzania: the Maasai Predicament. New African June:44-46.
Oates, John F. 1999. Myth and Reality in the Rain Forest: How Conservation Strategies Are Failing in West Africa: University of California Press
Peet, Richard and Michael Watts. 2004. Liberation Ecologies: Environment, Development, Social Movements. Routledge, London.
Pretty, Jules N. and Irene Guijt. 1992. Primary Environmental Care: An Alternative Paradigm for Development Assistance. Environment & Urbanization 4:22-36.
Quaghebeur, Kerlijn, Jan Masschelein, and Hoai Huong Nguyen. 2004. Paradox of Participation: Giving or Taking Part? Journal of Community & Applied Social Psychology 14:154-165.
Redford, Kent H. and Steven E. Sanderson. 2000. Extracting Humans from Nature. Conservation Biology 14:1362-1364.
Rutten, Marcel M. 2002. Parks Beyond Parks: Genuine Community-Based Eildlife Eco-Tourism or Just Another Loss of Land for Maasai Pastoralists in Kenya? International Institute for Environment and Development, Drylands Programme Issue Paper 111:1-27.
Sanderson, Steven E. and Kent H. Redford. 2003. Contested Relationships Between Biodiversity Conservation and Poverty Alleviation. Oryx 37:389-390.
Schwartzman, Stephan, Adriana Moreira, and Daniel Nepstad. 2000. Rethinking Tropical Forest Conservation: Perils in Parks. Conservation Biology 14:1351-1357.
Sekhar, Nagothu Udaya. 2003. Local People's Attitudes Towards Conservation and Wildlife Tourism around Sariska Tiger Reserve, India. Journal of Environmental Management 69:339-347.
Selfa, Theresa and Joanna Endter-Wada. 2008. The Politics of Community-Based Conservation in Natural Resource Management: A Focus for International Comparative Analysis. Environment and Planning 40:948-965.
Simelane, T., G.I.H Kerley, and M.H. Knight. 2006. Reflections on the Relationships Between Communities and Conservation Areas of South Africa: The Case of Five South African National Parks. Koedoe -African Protected Area Conservation and Science 49:85-102.
Songorwa, Alexander N. 1999. Community-Based Wildlife Management (CWM) in Tanzania: Are the Communities Interested? World Development 27:2061-2079.
Sprugel, Douglas G. 1991. Disturbance, Equilibrium, and Environmental Variability: What is "Natural" Vegetation in a Changing Environment? Biological Conservation 58:1-18.
Taylor, Edward W. 2006. Making Meaning of Local Nonformal Education: Practitioner's Perspective. Adult Education Quarterly 56:291-307.
Terborgh, John. 2000. The Fate of Tropical Forests: A Matter of Stewardship. Conservation Biology 14:1358-1361.
Timko, Joleen and Terre Satterfield. 2008. Criteria and Indicators for Evaluating Social Equity and Ecological Integrity in National Parks and Protected Areas. Natural Areas Journal 28:307-319.
Turner, M.D. 1999. No Space for Participation: Pastoralist Narratives and the Etiology of Park-Herder Conflict in Southeastern Niger. Land Degradation and Development 10:345-363.
Weladji, Robert B., Stein R. Moe, and Pål Vedeld. 2003. Stakeholder Attitudes Towards Wildlife Policy and the Bénoué Wildlife Conservation Area, North Cameroon. Environmental Conservation 30:334-343
Wells, Michael P. and Thomas O. McShane. 2004. Integrating Protected Area Management with Local Needs and Aspirations. Ambio 33:513-519.
Zanetell, Brooke Ann and Barbara A. Knuth. 2002. Bribing Biodiversity: Corruption, Participation, and Community-Based Management in Venezuela. Southern Rural Sociology 18:130-161.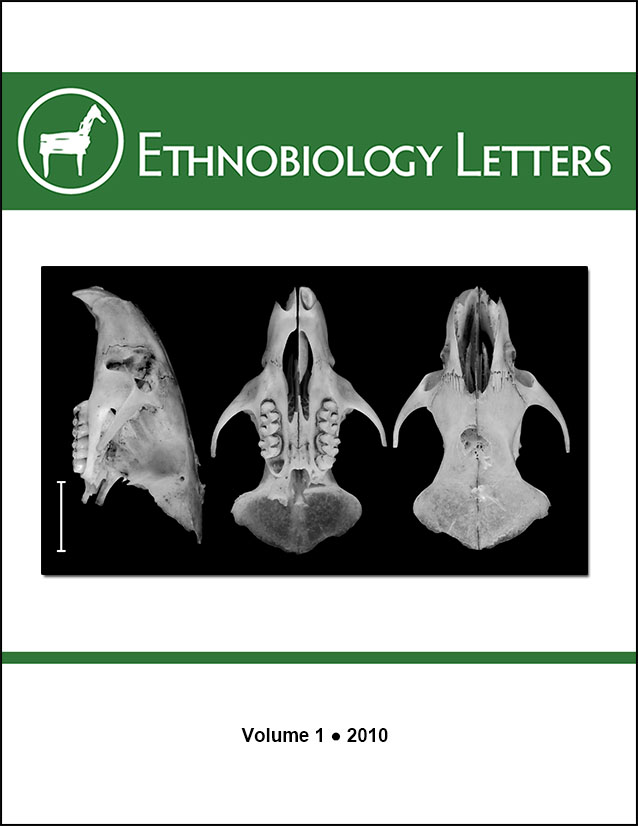 How to Cite
Müller, J., & Guimbo, I. D. (2011). Letting Wood Rot: A Case Study on Local Perceptions of Global Conservation Initiatives (Boumba, Niger). Ethnobiology Letters, 1, 40-50. https://doi.org/10.14237/ebl.1.2010.61
Copyright (c) 2011 Ethnobiology Letters
This work is licensed under a Creative Commons Attribution-NonCommercial 4.0 International License.
Authors who publish with this journal agree to the following terms:
Authors retain ownership of the copyright for their content and grant Ethnobiology Letters (the "Journal") and the Society of Ethnobiology right of first publication. Authors and the Journal agree that Ethnobiology Letters will publish the article under the terms of the Creative Commons Attribution-NonCommercial 4.0 International Public License (CC BY-NC 4.0), which permits others to use, distribute, and reproduce the work non-commercially, provided the work's authorship and initial publication in this journal are properly cited.
Authors are able to enter into separate, additional contractual arrangements for the non-exclusive distribution of the journal's published version of the work (e.g., post it to an institutional repository or publish it in a book), with an acknowledgement of its initial publication in this journal.
For any reuse or redistribution of a work, users must make clear the terms of the Creative Commons Attribution-NonCommercial 4.0 International Public License (CC BY-NC 4.0).
In publishing with Ethnobiology Letters corresponding authors certify that they are authorized by their co-authors to enter into these arrangements. They warrant, on behalf of themselves and their co-authors, that the content is original, has not been formally published, is not under consideration, and does not infringe any existing copyright or any other third party rights. They further warrant that the material contains no matter that is scandalous, obscene, libelous, or otherwise contrary to the law.
Corresponding authors will be given an opportunity to read and correct edited proofs, but if they fail to return such corrections by the date set by the editors, production and publication may proceed without the authors' approval of the edited proofs.