Toward an Ethnoarchaeomalacology of Achatina in East Africa
Jonathan Walz

Coastal Ecology and Natural Resource Management, School for International Training, Zanzibar, Tanzania.
Keywords:
Land snail, Ethnoarchaeology, Malacology, Holocene, Tanzania
Abstract
Land snail shell is a material commonly identified in the Late Holocene archaeological record of eastern Africa. Typically, archaeologists designate land snail shell as a natural occurrence or as debris produced from human subsistence. Ethnographic observations in lowland northeastern Tanzania show that contemporary communities employ the soft parts and shells of land snails, particularly Achatina fulica, for a range of everyday and special purposes. The array of land snail uses by mixed subsistence farmers and agropastoralists in the area documents the significance of A. fulica and other robust land snail species. Present uses of land snails observed in Tanzania offer a set of analogies that, when critically applied, can enrich archaeologists' interpretations of land snail debris in antiquity.
References
Biginagwa, T. 2012. Historical Archaeology of the 19th Century Caravan Trade in North-Eastern Tanzania: A Zooarchaeological Perspective. Unpublished Doctoral Dissertation, Department of Archaeology, University of York, York, United Kingdom.
Brown, J. 1995. Traditional Metalworking in Kenya. Oxbow, London, United Kingdom.
Claassen, C. 1998. Shells. Cambridge University Press, Cambridge, United Kingdom.
Collet, D. 1985. The Spread of Early Iron Producing Communities in Eastern Africa. Unpublished Doctoral Dissertation, Department of Archaeology, University of Cambridge, Cambridge, United Kingdom.
Emberton, K., T. Pearce, P. Kasigwa, P. Tattersfield, and Z. Habibu. 1997. High Diversity and Regional Endemism in Land-Snails of Eastern Tanzania. Biodiversity and Conservation 6:1123–1136. DOI:10.1023/A:1018384101789.
Girod, A. 2003. The Holocene Molluscs of Edera Cave (Aurisina, Northeastern Italy): Qualitative and Spatial Analyses, 1990–1997 Excavations. Atti Società per la Preistoria e Protostoria della Regione Friuli-Venezia Giulia 13:35–55.
Goodfriend, G. 1992. The Use of Land Snail Shells in Paleoenvironmental Reconstruction. Quaternary Science Reviews 11:665–685. DOI:10.1016/0277-3791(92)90076-K.
Gutierrez Zugasti, F. 2011. Early Holocene Land Snail Exploitation in Northern Spain: The Case of La Fragua Cave. Environmental Archaeology 16:36–48. DOI:10.1179/146141010X12640787648306.
Kasigwa, P., A. Mremi, and J. Allen. 1983. Predation by Mongooses, Rodents and Snails on Sitala jenynsi (Pfr.), Achatina fulica Bowdich and other Land Snails in Coastal Tanzania. Journal of the East Africa Natural History Society and National Museum 179:1–9.
Lubell, D. 2004. Prehistoric Edible Land Snails in the Circum-Mediterranean: The Archaeological Evidence. In Petits Animaux et Sociétés Humaines. Du Complément Alimentaire Aux Ressources Utilitaires, edited by J.-J. Brugal and J. Desse, pp. 77–98. XXIVe Rencontres Internationales D'Archéologie et D'Histoire d'Antibes, Éditions APDCA, Antibes.
Lubell D., F. Hassan, A. Gautier, and J. Ballais. 1976. The Capsian Escargotières. Science 191:910–920. DOI:10.1126/science.191.4230.910.
Matteucci, R., G. Belluomini, and L. Manfra. 2007. Late Holocene Environmental Change in Coastal Southern Somalia Inferred from Achatina and Rhizoliths. Journal of African Earth Sciences 49:79–89. DOI:10.1016/j.jafrearsci.2007.07.001.
Msemwa, P. 1994. An Ethnoarchaeological Study on Shellfish Collecting in a Complex Urban Setting. Unpublished Doctoral Dissertation, Department of Anthropology, Brown University, Providence, RI.
Pilsbry, H. 1919. A Review of the Land Mollusca of the Belgian Congo Chiefly Based on the Collections of the American Museum Congo Expedition, 1909–1915. Bulletin of the American Museum of Natural History 40:1–370.
Shipton, C., A. Crowther, N. Kourampas, M. Prendergast, M. Horton, K. Douka, J.-L. Schwenninger, P. Faulkner, E. Quintana Morales, M. Langley, R. Tibesasa, L. Picornell-Gelabert, E. Wilmsen, C. Doherty, M.-A. Veall, A. Ali, M. Petraglia, and N. Boivin. 2016. Reinvestigation of Kuumbi Cave, Zanzibar, reveals Later Stone Age Coastal Habitation, Early Holocene Abandonment and Iron Age Reoccupation. Azania 51:197–233. DOI:10.1080/0067270X.2016.1173308.
Soper, R. 1967. Iron Age Sites in North-Eastern Tanzania. Azania 2:19–38. DOI:10.1080/00672706709511438.
Tattersfield, P., M. Seddon, C. Meena, N. Kayumbo, and P. Kasigwa. 1998. Ecology and Conservation of the Land-Snails of the Eastern Arc Mountains. Journal of East African Natural History 87:119–138. DOI:10.2982/0012-8317(1998)87[119:EACOTL]2.0.CO.
Verdcourt, B. 1952. Observations on the Ecology of the Land and Freshwater Mollusca of North-East Tanganyika. Tanganyika Notes and Records 33:67–82.
Verdcourt, B. 1972. The Zoogeography of the Non-Marine Mollusca of East Africa. Journal of Conchology 27:291–348.
Walsh, M. 2015. Notes on Achatina Shells collected on Unguja Island, Zanzibar, July 2015. Report in Papers of Martin Walsh. Zanzibar, Tanzania.
Walz, J. 2010a. Molluscs and Late Holocene Archaeology in East Africa. Archaeo+Malacology Newsletter 17:1–3.
Walz, J. 2010b. Route to a Regional Past: An Archaeology of the Lower Pangani (Ruvu) Basin, Tanzania, 500-1900 C.E. Unpublished Doctoral Dissertation, Department of Anthropology, University of Florida, Gainesville, FL.
Waselkov, G. 1987. Shellfish Gathering and Shell Midden Archaeology. Advances in Archaeological Method and Theory 10:93–210.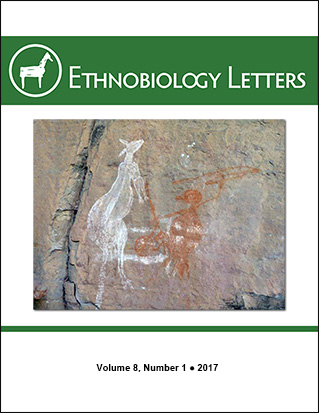 How to Cite
Walz, J. (2017). Toward an Ethnoarchaeomalacology of Achatina in East Africa. Ethnobiology Letters, 8(1), 90–96. https://doi.org/10.14237/ebl.8.1.2017.751
Section
Research Communications
Copyright (c) 2017 Jonathan Walz
This work is licensed under a Creative Commons Attribution-NonCommercial 4.0 International License.
Authors who publish with this journal agree to the following terms:
Authors retain ownership of the copyright for their content and grant Ethnobiology Letters (the "Journal") and the Society of Ethnobiology right of first publication. Authors and the Journal agree that Ethnobiology Letters will publish the article under the terms of the Creative Commons Attribution-NonCommercial 4.0 International Public License (CC BY-NC 4.0), which permits others to use, distribute, and reproduce the work non-commercially, provided the work's authorship and initial publication in this journal are properly cited.
Authors are able to enter into separate, additional contractual arrangements for the non-exclusive distribution of the journal's published version of the work (e.g., post it to an institutional repository or publish it in a book), with an acknowledgement of its initial publication in this journal.
For any reuse or redistribution of a work, users must make clear the terms of the Creative Commons Attribution-NonCommercial 4.0 International Public License (CC BY-NC 4.0).
In publishing with Ethnobiology Letters corresponding authors certify that they are authorized by their co-authors to enter into these arrangements. They warrant, on behalf of themselves and their co-authors, that the content is original, has not been formally published, is not under consideration, and does not infringe any existing copyright or any other third party rights. They further warrant that the material contains no matter that is scandalous, obscene, libelous, or otherwise contrary to the law.
Corresponding authors will be given an opportunity to read and correct edited proofs, but if they fail to return such corrections by the date set by the editors, production and publication may proceed without the authors' approval of the edited proofs.