Towards an Interdisciplinary Focus on Sound in Ethnobiology Research
Claire C Wright

Department of Anthropology and Department of Folklore and Ethnomusicology, Indiana University, Bloomington.
Keywords:
Ethnomusicology, Soundscape ecology, Ethnoecology, Methodology, Perception
Abstract
Research on perception and ecological knowledge in ethnobiology has primarily focused on sight, in tandem with taste, smell, and touch. Sound, however, has been largely neglected as a topical or methodological focus. This review addresses research in ethnomusicology and soundscape ecology to suggest how attention to sound could open new avenues and add value to ethnoecological research.
References
Albuquerque, U. P., L. V. F. Cruz, R. F. P. Lucena, and R. R. N. Alves, eds. 2014. Methods and Technique in Ethnobiology and Ethnoecology. Springer, New York, NY.
Berlin, B., and J. P. O'Neill. 1981. The Persuasiveness of Onomatopoeia in Aguaruna and Huambisa Bird Names. Journal of Ethnobiology 1:238–261. Available at: http://www.botanicus.org/item/31753002401393#. Accessed on January 17, 2017.
de Mori, B. B., and A. Seeger. 2013. Introduction: Considering Music, Humans, and Non-humans. Ethnomusicology Forum 22:269–286.
Feld, S. 2012. Sound and Sentiment: Birds, Weeping, Poetics, and Song in Kaluli Expression, 3rd edition. Duke University Press, Durham, NC.
Guyette, M. Q., and J. C. Post. 2015. Ecomusicology, Ethnomusicology, and Soundscape Ecology: Scientific and Musical Responses to Sound Study. In Current Directions in Ecomusicology, edited by A. S. Allen and K. Dawe, pp. 40–65. Routledge, New York, NY.
Hunn, E. 1992. The Use of Sound Recordings as Voucher Specimens and Stimulus Materials in Ethnozoological Research. Journal of Ethnobiology 12:187–198. Available at: http://www.botanicus.org/page/1760570. Accessed on March 28, 2016.
Krause, B., and A. Farina. 2016. Using Ecoacoustic Methods to Survey the Impacts of Climate Change on Biodiversity. Biological Conservation 195:245–254. DOI:10.1016/j.biocon.2016.01.013.
Mekbib, F. 2009. Folksong Based Appraisal of Bioecocultural Heritage of Sorghum (Sorghum Bicolor (L.) Moench): A New Approach in Ethnobiology. Journal of Ethnobiology and Ethnomedicine 5:19. DOI:10.1186/1746-4269-5-19.
Pijanowski, B. C. 2016. Terrestrial Soundscape: Status of Ecological Research in Natural and Human-Dominated Landscapes. In The Effects of Noise on Aquatic Life II, edited by A. N. Popper and A. Hawkins, pp. 839–846. Springer, New York, NY.
Ramires, M., M. Clauzet, W. Barrella, M. M. Rotundo, R. A. M. Silvano, and A. Begossi. 2015. Fishers' Knowledge about Fish Trophic Interactions in the Southeastern Brazilian Coast. Journal of Ethnobiology and Ethnomedicine 11:19. DOI:10.1186/s13002-015-0012-8.
Sakakeeny, M. 2010. 'Under the Bridge': An Orientation to Soundscapes in New Orleans. Ethnomusicology 54:1–27. DOI:10.5406/ethnomusicology.54.1.0001.
Schaffer, L. J. 2014. Making Sense of Local Climate Change in Rural Tanzania Through Knowledge Co-Production. Journal of Ethnobiology 34:315–334. DOI: 10.2993/0278-0771-34.3.315.
Schine, J. 2012. Soundwalking: Ways of Listening to the Biological World [webpage]. Available at: www.ethnobiology.net/schine-2012congress. Accessed on September 6, 2016.
Seeger, A. 1981. Nature and Society in Central Brazil: The Suyá Indians of Mato Grosso. Harvard University Press, Cambridge, MA.
Turpin, M., A. Ross, V. Dobson, and M. K. Turner. 2013. The Spotted Nightjar Calls When Dingo Pups Are Born: Ecological and Social Indicators in Central Australia. Journal of Ethnobiology 33:7–32. DOI:10.2993/0278-0771-33.1.7.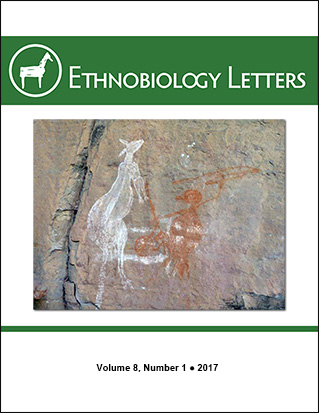 How to Cite
Wright, C. C. (2017). Towards an Interdisciplinary Focus on Sound in Ethnobiology Research. Ethnobiology Letters, 8(1), 58–60. https://doi.org/10.14237/ebl.8.1.2017.788
Section
Short Topical Reviews
Copyright (c) 2017 Claire C Wright
This work is licensed under a Creative Commons Attribution-NonCommercial 4.0 International License.
Authors who publish with this journal agree to the following terms:
Authors retain ownership of the copyright for their content and grant Ethnobiology Letters (the "Journal") and the Society of Ethnobiology right of first publication. Authors and the Journal agree that Ethnobiology Letters will publish the article under the terms of the Creative Commons Attribution-NonCommercial 4.0 International Public License (CC BY-NC 4.0), which permits others to use, distribute, and reproduce the work non-commercially, provided the work's authorship and initial publication in this journal are properly cited.
Authors are able to enter into separate, additional contractual arrangements for the non-exclusive distribution of the journal's published version of the work (e.g., post it to an institutional repository or publish it in a book), with an acknowledgement of its initial publication in this journal.
For any reuse or redistribution of a work, users must make clear the terms of the Creative Commons Attribution-NonCommercial 4.0 International Public License (CC BY-NC 4.0).
In publishing with Ethnobiology Letters corresponding authors certify that they are authorized by their co-authors to enter into these arrangements. They warrant, on behalf of themselves and their co-authors, that the content is original, has not been formally published, is not under consideration, and does not infringe any existing copyright or any other third party rights. They further warrant that the material contains no matter that is scandalous, obscene, libelous, or otherwise contrary to the law.
Corresponding authors will be given an opportunity to read and correct edited proofs, but if they fail to return such corrections by the date set by the editors, production and publication may proceed without the authors' approval of the edited proofs.