An Interview with Roy Ellen
Nejm Benessaiah

School of Anthropology and Conservation, University of Kent, Canterbury, Kent, UK CT2 7NZ
Abstract
I decided to undertake this interview with Professor Ellen, simply because I thought such a distinguished career deserved to be marked as he was retiring. Roy was happy to make time for our interviews, in the form of loosely structured conversation which, like the Arabian Nights, Roy pointed out, could have gone on forever, but I decided to draw the line at three sessions. Perhaps it could, and will go on to form part of a more in-depth biography, as I continued to discover other aspects and adventures of Roy's interesting life in the course of other contexts, much as one does in the field. Much is known about what ethnobiologists and anthropologists say about another people's lives; less is known about their own, apart from rare reflections, diaries and memoires. I found Roy's reflections a source of comfort as I embarked on my own PhD fieldwork, reassuring me as I fumbled around, making my own unique but comparable mistakes among the insights I gleaned. The following is an edited version of the original interview. I hope it will be as enjoyable to the reader as it was to me working on it.
References
Bicker, A., R. F. Ellen, and P. Parkes, eds. 2000. Indigenous Environmental Knowledge and its Transformations: Critical Anthropological Perspectives. Harwood Academic, Amsterdam.
Ellen, R. F. 1979. Sago Subsistence and the Trade in Spices: A Provisional Model of Ecological Succession and Imbalance in Moluccan History. In Social and Ecological Systems, edited by R. F. Ellen and P. Burnham, pp. 43-74. Academic Press, London.
Ellen, R. F. 1982. Environment, Subsistence and System: The Ecology of Small-Scale Social Formations. Cambridge University Press, Cambridge.
Ellen, R. F. 1993. The Cultural Relations of Classification: An Analysis of Nuaulu Animal Categories from Central Seram. Cambridge University Press, Cambridge.
Ellen, R. F. 2003. On the Edge of the Banda Zone: Past and Present in the Social Organization of a Moluccan Trading Network. University of Hawaii Press, Honolulu.
Ellen, R. F., ed. 2006. Ethnobiology and the Science of Humankind. Wiley-Blackwell, Oxford.
Ellen, R. F., and K. Fukui, eds. 1996. Redefining Nature: Ecology, Culture, and Domestication. Berg, Oxford.
Mansfield, J. C. 1952. Dawn of Creation. George G. Harrap, London.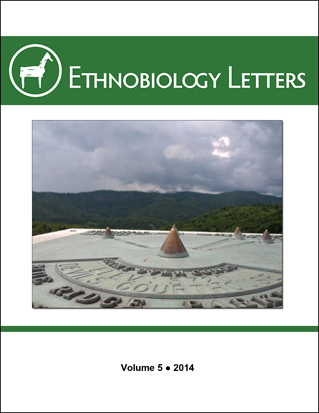 How to Cite
Benessaiah, N. (2014). An Interview with Roy Ellen. Ethnobiology Letters, 5, 31-39. https://doi.org/10.14237/ebl.5.2014.167
Section
Interviews & Reflections
Copyright (c) 2014 Ethnobiology Letters
This work is licensed under a Creative Commons Attribution-NonCommercial 4.0 International License.
Authors who publish with this journal agree to the following terms:
Authors retain ownership of the copyright for their content and grant Ethnobiology Letters (the "Journal") and the Society of Ethnobiology right of first publication. Authors and the Journal agree that Ethnobiology Letters will publish the article under the terms of the Creative Commons Attribution-NonCommercial 4.0 International Public License (CC BY-NC 4.0), which permits others to use, distribute, and reproduce the work non-commercially, provided the work's authorship and initial publication in this journal are properly cited.
Authors are able to enter into separate, additional contractual arrangements for the non-exclusive distribution of the journal's published version of the work (e.g., post it to an institutional repository or publish it in a book), with an acknowledgement of its initial publication in this journal.
For any reuse or redistribution of a work, users must make clear the terms of the Creative Commons Attribution-NonCommercial 4.0 International Public License (CC BY-NC 4.0).
In publishing with Ethnobiology Letters corresponding authors certify that they are authorized by their co-authors to enter into these arrangements. They warrant, on behalf of themselves and their co-authors, that the content is original, has not been formally published, is not under consideration, and does not infringe any existing copyright or any other third party rights. They further warrant that the material contains no matter that is scandalous, obscene, libelous, or otherwise contrary to the law.
Corresponding authors will be given an opportunity to read and correct edited proofs, but if they fail to return such corrections by the date set by the editors, production and publication may proceed without the authors' approval of the edited proofs.