Runne-Beana: Dog Herds Ethnographer
Myrdene Anderson

Department of Anthropology, Purdue University, West Lafayette, IN.
Keywords:
Fieldwork reflections, Saami, Reindeer-herding dogs, Reindeer management
Abstract
Saami society in Lapland (now often called Saapmi), particularly the seasonally-nomadic reindeer-breeding sector, is predicated upon mobility and autonomy of its actors. Runne-Beana, a talented reindeer-herding dog, exhibited both mobility and autonomy when allocating to himself a peripatetic ethnographer, on the first day of five years of doctoral dissertation fieldwork in arctic Norway in 1972. That family's and the wider community's reactions to Runne-Beana's behavior, and mine, highlight the tensions when mobility and autonomy compound with ideologies of ownership and control. At the same time, his companionship profoundly shaped all field relationships, engendering an understanding of dog culture as it is manifest in the herder/herding dog/reindeer triad and in the interpenetration of assumptions concerning child/dog enculturation.
References
Agar, M. 1996. The Professional Stranger: An Informal Introduction to Ethnography, 2nd edition. Academic Press, San Diego, CA.
Anderson, M. 1978. Saami Ethnoecology: Resource Management in Norwegian Lapland. Unpublished Doctoral Dissertation, Department of Anthropology, Yale University, New Haven, CT.
Anderson, M. 1986. From Predator to Pet: Social Relationships of the Saami Reindeer-Herding Dog. Central Issues in Anthropology 6:3–11.
Anderson, M. 2000. Saami Children and Traditional Knowledge. In Ecological Knowledge in the North: Studies in Ethnobiology, edited by I. Svanberg and H. Tunon, pp. 55–65. Swedish Biodiversity Centre, Uppsala, Sweden.
Anderson, M. 2015. Musing on Nomadism: Being and Becoming at Home on the Reindeer Range. In Stories of Home: Place, Identity, Exile, edited by D. Chawla and S. Holman Jones, pp. 17–30. Lexington Books, New York, NY.
Anderson, M. 2016. Food Trends through Two Generations amongst Saami in Arctic Fennoscandia. In Gender and Food: From Production to Consumption and After, Advances in Gender Research 22, edited by V. Demos and M. Texler Segal, pp. 3–23. Emerald, New York, NY.
Beach, H. 1981. Reindeer Herd Management in Transition: The Case of Tuorpon Saameby in Northern Sweden. Uppsala University Press, Uppsala, Sweden.
Ellen, R. F. 1987. Ethnographic Research: A Guide to General Conduct, 2nd edition. Academic Press, New York, NY.
Paine, R. 1994. Herds of the Tundra: A Portrait of Saami Reindeer Pastoralism. Smithsonian Institution Press, Washington, DC.
Pehrson, R. N. 1957. The Bilateral Network of Social Relations in Konkama Lapp District. International Journal of American Linguistics (II) 23.1.
Wengle, J. L. 1988. Ethnographers in the Field: The Psychology of Research. University of Alabama Press, Tuscaloosa, AL.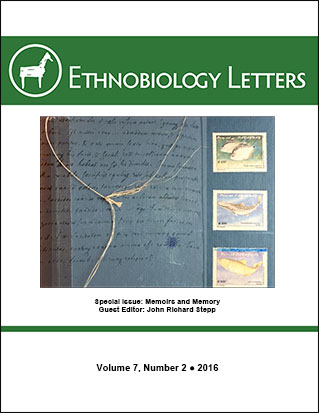 How to Cite
Anderson, M. (2016). Runne-Beana: Dog Herds Ethnographer. Ethnobiology Letters, 7(2), 32–40. https://doi.org/10.14237/ebl.7.2.2016.725
Section
Research Communications
Copyright (c) 2016 Myrdene Anderson
This work is licensed under a Creative Commons Attribution-NonCommercial 4.0 International License.
Authors who publish with this journal agree to the following terms:
Authors retain ownership of the copyright for their content and grant Ethnobiology Letters (the "Journal") and the Society of Ethnobiology right of first publication. Authors and the Journal agree that Ethnobiology Letters will publish the article under the terms of the Creative Commons Attribution-NonCommercial 4.0 International Public License (CC BY-NC 4.0), which permits others to use, distribute, and reproduce the work non-commercially, provided the work's authorship and initial publication in this journal are properly cited.
Authors are able to enter into separate, additional contractual arrangements for the non-exclusive distribution of the journal's published version of the work (e.g., post it to an institutional repository or publish it in a book), with an acknowledgement of its initial publication in this journal.
For any reuse or redistribution of a work, users must make clear the terms of the Creative Commons Attribution-NonCommercial 4.0 International Public License (CC BY-NC 4.0).
In publishing with Ethnobiology Letters corresponding authors certify that they are authorized by their co-authors to enter into these arrangements. They warrant, on behalf of themselves and their co-authors, that the content is original, has not been formally published, is not under consideration, and does not infringe any existing copyright or any other third party rights. They further warrant that the material contains no matter that is scandalous, obscene, libelous, or otherwise contrary to the law.
Corresponding authors will be given an opportunity to read and correct edited proofs, but if they fail to return such corrections by the date set by the editors, production and publication may proceed without the authors' approval of the edited proofs.