Avian Voices, Avian Silences: Learning By Listening to Birds
References
Espejo Ayca, E. 2011. Cantos a las Casas: Utach Kirki, Jiyawa Música [Audio]. Available at: http://opacespacio.fundacionpatino.org/cgi-bin/koha/opac-detail.pl?biblionumber=21621. Accessed on October 13, 2020.
Gomes, N. J. 2020. Reclaiming Native Hawaiian Knowledge Represented in Bird Taxonomies. Ethnobiology Letters 11:30–43. DOI:10.14237/ebl.11.2.2020.1640.
Pierotti, R. 2020. Learning about Extraordinary Beings: Native Stories and Real Birds. Ethnobiology Letters 11:44–51. DOI:10.14237/ebl.11.2.2020.1682.
Raby, D. 2013. Comidas del Zopilote: Ofrenda, Limpieza y Empatía en un Ritual Agrícola (Alto Balsas Nahua, México). Amérique Latine, Histoire e Mémoire 25. DOI:10.4000/alhim.4496.
Raj, A. 2019. In Marshall Islands, Radiation Threatens Tradition of Handing Down Stories by Song. Los Angeles Times. Available at: https://www.latimes.com/projects/marshall-islands-radiation-effects-cancer/. Published November 10, 2019.
Vásquez-Dávila, M. A., ed. 2014. Aves, Personas y Cultura: Estudios de Etno-rnitología 1. Carteles Editores, Oaxaca, México.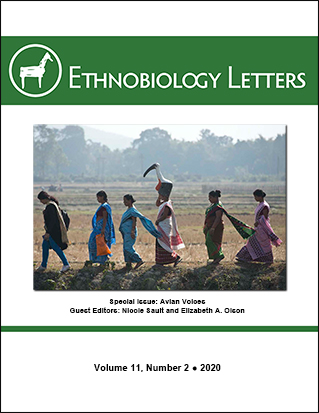 How to Cite
Sault, N. (2020). Avian Voices, Avian Silences: Learning By Listening to Birds. Ethnobiology Letters, 11(2), 1-4. https://doi.org/10.14237/ebl.11.2.2020.1730
Copyright (c) 2020 Nicole Sault
This work is licensed under a Creative Commons Attribution-NonCommercial 4.0 International License.
Authors who publish with this journal agree to the following terms:
Authors retain ownership of the copyright for their content and grant Ethnobiology Letters (the "Journal") and the Society of Ethnobiology right of first publication. Authors and the Journal agree that Ethnobiology Letters will publish the article under the terms of the Creative Commons Attribution-NonCommercial 4.0 International Public License (CC BY-NC 4.0), which permits others to use, distribute, and reproduce the work non-commercially, provided the work's authorship and initial publication in this journal are properly cited.
Authors are able to enter into separate, additional contractual arrangements for the non-exclusive distribution of the journal's published version of the work (e.g., post it to an institutional repository or publish it in a book), with an acknowledgement of its initial publication in this journal.
For any reuse or redistribution of a work, users must make clear the terms of the Creative Commons Attribution-NonCommercial 4.0 International Public License (CC BY-NC 4.0).
In publishing with Ethnobiology Letters corresponding authors certify that they are authorized by their co-authors to enter into these arrangements. They warrant, on behalf of themselves and their co-authors, that the content is original, has not been formally published, is not under consideration, and does not infringe any existing copyright or any other third party rights. They further warrant that the material contains no matter that is scandalous, obscene, libelous, or otherwise contrary to the law.
Corresponding authors will be given an opportunity to read and correct edited proofs, but if they fail to return such corrections by the date set by the editors, production and publication may proceed without the authors' approval of the edited proofs.