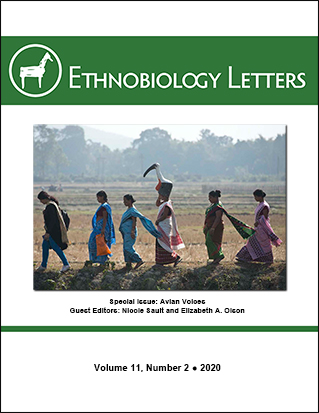 Special Issue:
Avian Voices
Listening to Bird Wisdom. People tell bird stories or sing and dance in ceremonies that present key values with ecological knowledge for addressing conflict and crises. In this Ethnobiology Letters special issue, six articles examine metaphors, naming protocols, and taxonomy, as well as women's roles in promoting community-based conservation and the meaning of avian silences for habitat loss, extinction, and climate change. They draw on historical documents, oral tradition, and contemporary narratives from Costa Rica, India, Indonesia, Mexico, Peru, and the United States. The focus ranges from ravens and jays to storks and condors, as well as connections with wolves and turtles, showing how reciprocity is central to restoring relationships with the land and healing.
Guest Editors: Nicole Sault and Elizabeth A. Olson
Co-editors: Maria Bruno, Andrew Flachs, and John M. Marston
Review Editor: Felice S. Wyndham
Editorial Assistants: Andrew D. Gillreath-Brown and Emily Johnson
Cover Image: Women's group working to protect the Adjutant Stork in Assam, India. Photographed by Anupam Nath in Dadara, Kamrup, Assam, India.